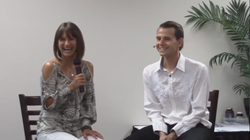 Sexiness Starts from the energy inside
Los Angeles, CA (PRWEB) March 25, 2014
What makes a woman sexy? That is a question that many have asked throughout the years. In a world full of constant judgment and magazines using Photoshop to make models unrealistic, the answer to what makes a woman sexy is hard to find. In an interview conducted recently by Conscious Counselor representative, Sead Pepic, he interviews a woman named Amy from the Orange County area that explains her success as an everyday sexy woman and what she does to achieve that.
The answer to the question, "What makes a woman sexy?" is simple. That answer is for the woman to love herself. In the interview, Amy explains that she was recently even asked out on a date with celebrity, Fabio Lanzoni. The interviewee says, "Sexiness comes through in here," as she touches where her heart would lay. "The energy you put out has a lot to do with it."
According to the interviewee, sexiness is not just determined by the way someone looks. It is also determined by confidence and playing with their own unique attribute(s). Amy explains that part of being sexy can be what someone wears. Not necessarily showing cleavage or wearing short skirts but just showing off the best attributes of that person. In the interview, she wears white skinny jeans with pumps and a long tunic that shows off the shoulders. For the full video clip, please click on: https://www.youtube.com/watch?v=_PPkSR9KX54.
Amy continues that men do love dresses and she seems to get a lot more attention when wearing a dress. Since she is more petite and does not have a lot of curves, she tries to wear clothes that make her body look a little bit different.
Towards the end of the interview, Amy tells the audience that she is 50 years old and she says great nutrition and positive energy helps keep people looking young.
"I think looking feminine is one of the most important things. Especially if you are trying to attract a masculine man," says Amy. For the full video, please click on: Dating advice for women.
She continues, "I actually wear dresses a lot. Even in my day-to-day stuff. I wear sundresses. I wear dresses a lot. I also like being feminine. I have my masculine side too because I'm very athletic and I have kids so I'm very hands on and I'm strong but I like to play up my femininity. You don't have to be petite or small to be feminine but it's also an energy that you can play on. Men do love dresses though. I seem to get a lot of attention when I do wear dresses. I think dresses are very sexy and very feminine."
"I'm not really that attractive. I don't look good in pictures. What is it that makes me look sexy? I think it's the energy that a person puts out to people. I think that's a big part of it. Confidence too," says Amy. This video goes beyond dating tips for women and goes into the heart of where a woman is coming from.
The video also goes in depth about getting a quality man. All men whether they are aware of it consciously or unconsciously are looking for a specific type of women that is the missing peace to the masculine. This video explores in depth what that piece is. And it is women are much more natural conductors of energy than men. Quality men are drawn to that. For much more information on this, please click here for what attracts a quality man.
At the end of the interview Sead summarizes Amy's tips by explaining that being sexy is about energy, confidence, and playing off a woman's best attributes.
Especially with how society and American society particularly portray what makes a woman attractive or sexy, it can be frustrating to many women since many ideal models have their images retouched. By putting a false sense of beauty on an everyday woman, women can often times feel like they are not good enough for men. In the interview with Conscious Counselor, Sead finds and agrees that sexy is not about a perfect body but rather confidence and energy a woman displays that makes her sexy. For the full clip, please click on: Women's dating advice and dating tips
Sead Pepic
Conscious Counselor
(845) 494-0969
http://www.ConsciousCounselor.com/