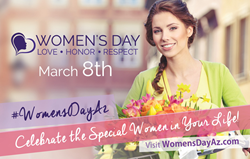 "Every woman deserves Love, Honor and Respect. CalFlowers is proud to support Women's Day outreach efforts both locally and nationally", said Michael
Phoenix, Arizona (PRWEB) March 04, 2015
Local Arizona florists have created an online platform for sharing stories of Love, Honor and Respect in celebration and recognition of Women's Day March 8th. The Arizona floral community launched the website http://www.womensdayaz.com to encourage people to share stories of love, honor and respect for the special women in their life. In addition, the local floral community has taken its message of love, honor and respect for Arizona women to social media by sharing the stories that are submitted by the public on Facebook and Twitter. In less than 2 weeks, the campaign has reached more than 100,000 people on Facebook alone. "The stories being shared are very powerful reminders of the influence and difference a woman can make in the lives of others. This campaign has touched our hearts and we are forever grateful for the amazing examples of sacrifice, strength and love," said Cheryl Denham, owner of Arizona Family Florist located in Phoenix, Arizona.
"In addition to recognizing and celebrating the achievements of women, the goal is to raise awareness for the non-profit organization Phoenix Dream Center and their amazing outreach program Where Hope Lives," said Tony Medlock AIFD, PFCI of PJs Flowers located in Phoenix Arizona. The purpose of Where Hope Lives is to rescue trafficking victims, offering them love, hope and a way off the streets. Established in 2009, the non-profit Where Hope Lives formerly The Rescue Project, is a national leader in the rescue, recovery and prevention of human trafficking and relies on donations and support from both the public and private sector. In addition to helping raise awareness, the Arizona floral community donates roses each year that are used in their heroic outreach efforts as an expression of love when rescuing young women.
Women's Day, observed annually on March 8th, is a day to celebrate the achievements of women from around the world. More than 100 nations recognize Women's Day and 35 have declared it a national holiday with thousands of events held by organizations, governments, charities, educational institutions, women's groups, corporations and the media. The mission of Women's Day Arizona is to provide a platform that encourages the community to show respect, appreciation and love for the amazing Arizona women we all interact with on a daily basis. Women's Day AZ is a time to recognize and celebrate the influence and achievements of women throughout Arizona's history and today. From business to politics, athletics to philanthropy, to celebrity and even the mom next door.
The campaign to raise awareness for Women's Day in Arizona is being supported by local Arizona florists as well as CalFlowers (California Association of Flower Growers and Shippers) and Asocolflores (The Association of Colombian Flower Exporters). "Every woman deserves Love, Honor and Respect. Whether mother or daughter, young or old, Arizona's amazing women deserve to be honored this Women's Day. CalFlowers is proud to support Women's Day outreach efforts both locally and nationally", said Michael LoBue, CEO of CalFlowers.
####
About Women's Day Arizona
The Arizona floral industry is dedicated to helping others show Love, Honor and Respect for the women in their life by recognizing Women's Day in Arizona. In addition, Women's Day Arizona and the Arizona floral community are committed to helping raise awareness for the Phoenix Dream Center and their amazing outreach program, Where Hope Lives. For more information about Women's Day Arizona, please visit http://www.womensdayaz.com.
To learn more about how you can make a difference by donating or volunteering your time to Where Hope Lives, go to http://www.wherehopelives.org