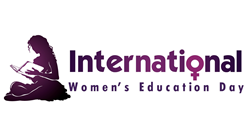 When sleeping women wake, the world shifts.
Miami, FL (PRWEB) July 04, 2014
The Butterfly Club, a global network exclusively for women, celebrates the launch of an unprecedented platform to promote and encourage women to take their heels off "autopilot" and unleash their greatest potential. At the forefront of this major societal reform is International Women's Education Day (IWED) founded in 2013 by Osmara Vindel, MBA, professional speaker, and social entrepreneur. The audacious movement gives center stage to those women who are ready to spread their wings and fly, but uncertain of the direction. July 13, 2014 marks a momentous occasion on the eve of the three-month anniversary of the more than 230 captured Nigerian girls who were violently taken from their homes because of formal education.
As a symbol of unity around the world, The Butterfly Club is asking everyone in support of 'bringing back our girls,' and the advancement of women's education to place a black line on their forehead, July 13th, in support of these important causes.
International Women's Education Day honors the profound impact that education plays in the lives of the many women who in turn will share this education with family, friends, and loved ones, empowering communities, improving equality, access, and shape new value systems for generations to come. "I believe every woman has within her, immense untapped potential to create something powerful for the world around her. I also believe the catalyst to this potential lies in empowerment via education. Educate a woman and you provide her with the fuel to light up her entire community. When we lift women up, everyone wins… And what this world needs more than anything - is more wins for everyone." - Osmara Vindel, founder of the Butterfly Club.
IWED spotlights international change agents and the many influential women throughout history who have used education as a catalyst to create opportunities and celebrate the resiliency of a woman's spirit. The mission of The Butterfly Club serves as a testament to the power of an educated woman, and the lasting effects she has on the universe and future generations.
The Butterfly Club is seeking partners to help spread these imperative messages universally. A few ways to partner with the revolutionary organization include:

Joining Women's Education Day Thunderclap campaign, donating a social media status, and sharing the message of Women's Education Day virally
https://www.thunderclap.it/projects/12457-women-s-education-day

Engaging fans and followers to join us via our Thunderclap campaign
Include Women's Education Day done-for-you updates on social media in emails, newsletters, and blogs
Record a video, explaining why you are a part of this, why women's education is important to you, and sharing this video on social media platforms
International Women's Education Day also serves to re-educate western society and the world at large on the significance of providing the right kind of education and the long-lasting positive consequences. Social media hashtags such as #KeepOnLearning, #IAMWorthy, and #WomensEducationDay have been created on Twitter, Facebook, Instagram, and Pinterest to follow along and get the latest updates and news on the movement.
For more information supporting The Butterfly Club and International Women's Education Day, or partnership opportunities, visit http://www.womenseducationday.com/ or contact info(at)butterflyclubtribe(dot)com.
All media, press, and interview opportunities for The Butterfly Club, International Women's Education Day, or interviews with founder, Osmara Vindel, contact Shay Brown, Royal Kingdom PR at pr(at)butterflyclubtribe(dot)com.
About The Butterfly Club:
The Butterfly Club is an exclusive global community that aims to create positive life transformations through a series of advanced training and education programs, creative and strategic networking, and social contribution opportunities by connecting women across the globe. Our mission is to help you master your mind, take care of your body, and nurture your heart so you can experience true freedom and fulfillment. The Butterfly Club helps you wake up from autopilot and get to know yourself. We strive for balance and a true awakening that will help identify your strengths and gifts to help push you out of your comfort zone. We believe that when sleeping women wake, the world shifts. For more information or join as a partner or affiliate, visit http://www.butterflyclubtribe.com.