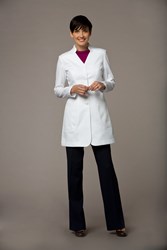 Licensed clinicians are held to the highest standards of aptitude and professionalism and their appearance should reflect this.
San Clemente, CA (PRWEB) January 21, 2014
Medelita was the first company to introduce a slim-fit collection to its offering of professional lab coats for physicians and medical professionals. The popularity of the initial designs was overwhelming, and in response to demand, the company has launched a new, shorter design for women seeking a slim-fitting alternative to the 34" long Ellody lab coat.
The company's new women's slim fit lab coat is named after Dr. Hannah Myrick who received her medical degree from Johns Hopkins University in 1900, helping to blaze the trail for women to enter the field of medicine. Myrick was also credited for developing some of the first X-ray film used at New England Hospital for Women and Children, where she spent ten years as superintendent.
The Hannah M. women's slim fit lab coat represents the most modern presentation of style and taste for physicians whose appearance is an outward display of aptitude, credibility, and trustworthiness. The slim fit lab coat features an elegant, vintage stand collar that tapers toward a fashionable neckline, with princess seams for an extremely flattering and trim silhouette. The coats are iPad-compatible and are sewn with performance fabrics to ensure that stains roll right off the coat. Medelita founder and licensed physician assistant, Lara Francisco, PA-C explained, "My female colleagues are simply not satisfied with a unisex lab coat that looks no different than a butcher's coat. No offense to the butcher – and I think any butcher would agree – licensed clinicians are held to the highest standards of aptitude and professionalism and their appearance should reflect this." The Hannah M. will be available for purchase with or without personalized embroidery online at http://www.medelita.com starting on January 20th, 2014.
About Medelita
Medelita is redefining the way healthcare professionals present themselves at work. Combining innovative, certified, performance fabric technology with sophisticated designs and hand-tailored workmanship, Medelita offers the most refined, comfortable and functional gender specific lab coats and physician scrubs available. Exquisite detailing and traditional sizing ensure flattering shaping, an unsurpassed professional appearance and a vastly improved fit. Quality is so exceptional, the company provides a One Year Guarantee – which is unmatched by any other medical apparel manufacturer in the industry. For more information, visit the Medelita website at http://www.medelita.com or call 877.987.7979.
Contact:
Joe Francisco
Medelita
1046 Calle Recodo, Suite D
San Clemente, CA 92673
877.987.7979
joe(at)medelita(dot)com
http://www.medelita.com