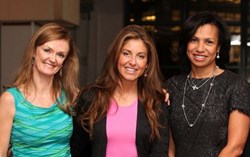 (PRWEB) November 04, 2013
The recent 2013 Women's Initiative New York Gala honored candy entrepreneur Dylan Lauren as entrepreneur of the year and financial executive Edith Cooper as the organization's 2013 honoree. Women's Initiative for Self Employment is a nationally-recognized nonprofit that helps high-potential, low-income women start and grow their own businesses. Also at the event, graduates of the business planning courses shared their inspirational stories and 13 graduates introduced their products and services to approximately 300 attendees.
In her opening remarks, Antonia Bowring, executive director of the New York operation for Women's Initiative, said "One of the things that make Women's Initiative unique is that we track our clients for at least five years after they finish our training, [which] allows us to report our impressive results." On average, Women's Initiative graduates double their income within 18 months, increase their household assets 14-fold, and create jobs that pay employees double minimum wage.
Other highlights included remarks from Women's Initiative's 2013 Gala Honoree, Edith Cooper, global head of Human Capital Management for Goldman Sachs. Cooper commended the organization for its culture of giving back. "The apprenticeship culture that the program promotes is what differentiates it and allows it to make such a profound impact. Not only are graduates creating new jobs; they are also transferring knowledge, skills and expertise," she said.
Dylan Lauren, Women's Initiative Entrepreneur of the Year, is founder and CEO of Dylan's Candy Bar, a chain of candy stores featuring unique confections from around the world. Lauren announced an upcoming trunk show her company is hosting to feature the products of Women's Initiative graduates and committed to donating "a portion from our total store sales toward the fundraising efforts of the Women's Initiative Organization to celebrate International Women's Day in March," she added.
Graduate keynote Jasmine Coppin, owner of See That Girl's Cleaning Service, discussed Women's Initiative's role in starting her company. Jasmine went from spending a year in a homeless shelter with her four year old daughter to being an entrepreneur and college graduate. After clients encouraged her to make a career out of home cleaning, Coppin researched ways for minority women to create their own business—and she found Women's Initiative. "From the first day I was accepted into the class and up to the last day of class, it has been a very wonderful journey for me," she said. "Through Simple Steps I was able to properly plan my business, create a winning business plan, understand how to forecast future sales and how to price my service so that I break even." Coppin graduated from the program in August 2013 and has already gathered potential clients, developed her company website and created a training manual for her employees.
To learn more about Women's Initiative and see highlights from the gala, visit http://www.womensinitiative.org
To arrange an interview with Dylan Lauren, Edith Cooper, Antonia Bowring or Jasmine Coppin, please contact Katie Bird at kbird(at)sunstarstrategic(dot)com
About Women's Initiative
For 25 years, Women's Initiative for Self Employment has been providing high-potential, low-income women with the business training, funding and ongoing support to start their own businesses and become economically self sufficient. A national nonprofit, Women's Initiative offers business management training, technical assistance, and financial services, in English and Spanish, in New York, Oakland and San Francisco. Our program helps improve the quality of life for the women we serve, their families and our communities. The women who go through our program significantly increase their income and assets while launching businesses, creating jobs and stimulating the local economy. In 2012, recent graduates of our program created and retained more than 5,300 jobs! For more information, please visit http://www.womensinitiative.org.
###