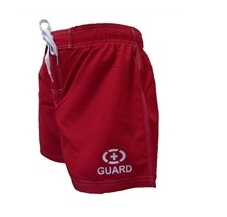 Perfect shorts for the female lifeguards
Los Angeles, CA (PRWEB) January 21, 2015
When it comes to being a lifeguard, having a uniform is just as important as any other profession. For many, the bright red background and white lettering has become the standard when it comes to lifeguard uniforms. Not only does this bright red color allow the lifeguard to be seen easily, but since this branding has become so widespread, patrons of the pool or beach know what to look for when trying to find a lifeguard. Now Lifeguard Master has released a new line of women's lifeguard shorts, two of which can go over a swimsuit and in water.
This brand new line includes three pairs of women's shorts designed specifically for lifeguards. The three pairs include the Women's Guard Swim Shorts, the Women's Lifeguard Shorts, and the Women's Lifeguard Board Shorts.
The Women's Lifeguard Swim Shorts come in a bright and distinct red color that can be seen from varying distances. These swim shorts are created from 100 percent polyester with a polyester mesh liner. Available in waist sizes that range from 26 inches to 38 inches, these swim shorts also have a front drawstring with reinforced stitching for a custom fit each and every time. White lettering along with a white cross and circle are bright against the red background on the lower left front corner of the swim shorts. A side pocket cargo makes it easy for any lifeguard to store essentials with her such as a pocket CPR mask or pocket sunscreen. These swim shorts can go over a swimsuit or in the water so a lifeguard can be on the go at any time.
The Women's Lifeguard Shorts are great to use while on duty when she wants a little more covered other than a swimsuit. While available in waist sizes that range from 23 inches to 28 inches, these shorts are created from bright red fabric made of 50 percent preshrunk cotton and 50 percent polyester jersey. An elastic waistband with four-needle stitching reverses to white when folded and provides comfort along the waist making it perfect for all-day wear. The bottom hem has double-needle stitching with two-inch side vents allowing for flexibility. To view a video of these shorts, please click on: women's lifeguard shorts video
The last pair in the line is the Women's Lifeguard Board Shorts. These can be worn over a swimsuit or in the water, making it great for those who frequent the water while on duty. With a five inch inseam, these board shorts are designed and worn by Hawaii Lifeguards Ocean and Pool Safety. With triple stitching, these board shorts are extremely durable and comfortable. Side strips add a uniform look to these shorts along with two more stitches totaling five stitches per side. A reinforced beltline and pocket make these board shorts incredibly strong and the highest quality lifeguard board shorts on the market today. Two drawstrings also allow for a custom fit every time these board shorts are worn. Available in sizes 1-15, these board shorts are perfect for lifeguards of all ages and sizes. A bright red color allows for these women's lifeguard shorts to match uniform codes and make lifeguards easily identifiable.
No matter whether a lifeguard serves on the beach or poolside, having a pair of reliable and comfortable shorts can be extremely important. With a variety of shorts of different sizes, material, budgets, and purposes, Lifeguard Master offers a short that is perfect for any female lifeguard. Whether she is looking for something to join her in the water, or something lighter that can be worn over a swimsuit, this new line of women's lifeguard shorts offers it all.
Lifeguard Master has been in the emergency and life saving industry for many years. Sammy, the owner and founder of Lifeguard Master has been a lifeguard himself for 7 years. He knows the importance have having all the equipment readily available for a first responder, and through the years Lifeguard Master has become a robust lifeguard supply and lifeguard store company, accommodating the anticipating needs of first responders around the country and around the world. Lifeguard Masters determination to excellence and rescue safety has quickly made it a leader in its industry. For more information, please give us a call, send us an e-mail or visit our website. Also to stay updated with the latest news in emergency supplies, please visit our forum where rescue professionals from around the country and world stay connect, and post the latest emergency news at LifeguardsOnline.com.
Sammy
Lifeguard Master
(714) 605-3090
http://www.LifeguardMaster.com