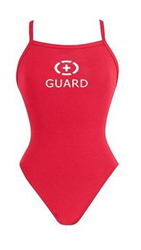 A great swimsuit. Visible, clear and professional.
Los Angeles, CA (PRWEB) November 19, 2014
When it comes to lifeguard swimsuits for women, there are two important things that should be considered: the guard should standout out in a crowd to be noticed as a life saver and professionalism. These 2 aspects have been taken into account with its bright red color and the GUARD symbol on the front of the suit. In addition to that, these suites are created with quality and care. A new line of women's lifeguard swimsuits is now available through the popular lifeguard supply company, Lifeguard Master.
Lifeguard Master actually offers two styles of women's swimsuits specifically made for lifeguards. There is a one-piece suit and a two-piece suit. Both have a bright red material, have a circle, and cross along with the word "GUARD" clearly printed on the bust. The color of the swimsuit and the text across the bust make the lifeguard clearly and easily identifiable.
Throughout the lifeguard's shift, it is extremely important for the lifeguard to remain confident and comfortable, especially in a swimsuit. Since a swimsuit oftentimes serves as the lifeguard's main uniform piece, the lifeguard must feel like not too much of her body is being exposed or that the swimsuit does not fit correctly, so that way she can focus on the public in the community she is serving at the time. For this reason, Lifeguard Master offers two different styles in a variety of sizes for the lifeguard to choose the one she feels most comfortable with for her body.
The two-piece swimsuit might be better for women with longer torsos who may prefer to have two pieces so the suit is not too tight vertically for them. The one-piece women's lifeguard swimsuit might be better for women who have to follow specific dress codes, for those who want a more modest suit, or simply prefer the way the one-piece swimsuit looks.
Both lifeguard swimsuits for women are made with an 80 percent Nylon to 20 percent Lycra mix for flexibility and breathability, perfect for long-lasting wear. Reinforced stitching on the swimsuits gives longevity to the suit so the uniform can be worn for hours at a time at the pool or beach.
Lifeguard Master also offers a line of women's swim shorts that make a great cover-up for comfort or cooler nights. The company offers three different style shorts including a matching circular cross logo, a pair with the word "LIFEGUARD" written on the back, and a pair of red board shorts.
The different styles of shorts are all available in a bright red to match the swimsuits sold by Lifeguard Master and come in a variety of fabrics with different inseams for comfort and flexibility. Some details of the shorts include side vents, double-needle stitched bottom hem, and cargo pockets to carry items easily.
Although the lifeguard swimsuit for women does not come with padding on the top of the swimsuit, the suit does come with a full front navy liner. Those who browse Lifeguard Master's site will also see the video of a model displaying what the swimsuit looks like when it is worn so the customer knows what they are buying before purchase. For a video of the 1-piece, please click on: women's lifeguard swimsuit 1-piece.
No matter what style of swimsuit someone prefers, Lifeguard Master offers special prices on larger purchases of women's lifeguard swimsuits, making it perfect for large beaches or pools who want all of their lifeguards to have the same style of design. Now, lifeguards of all kinds can wear matching swimsuits that are affordable and of extremely high quality. The swimsuits from Lifeguard Master are made to last wear after wear with their superior material and detailed stitching.
With two excellent lifeguard swimsuits for women and three styles of women's shorts, Lifeguard Master continues to be a leader in lifeguard apparel and accessories. Lifeguard Master offers hundreds of different supplies and they continue to develop and redesign popular products for optimum use, comfort, and productivity. In addition to a women's line, Lifeguard Master also offers a line of men's lifeguard swimsuits.
Lifeguard Master has been in the emergency and life saving industry for many years. Sammy, the owner and founder of Lifeguard Master, has been a lifeguard himself for 7 years. He knows the importance of having all of the equipment readily available for a first responder, and through the years, Lifeguard Master has become a robust lifeguard supply and lifeguard store company, accommodating the anticipating needs of first responders around the country and around the world. Lifeguard Master's determination to excellence and rescue safety has quickly made it a leader in its industry. For more information, please give us a call, send us an e-mail or visit our website. Also, to stay updated with the latest news in emergency supplies, please visit our forum where rescue professionals from around the country and world stay connected, and post the latest emergency news at LifeguardsOnline.com.
Sammy
Lifeguard Master
(714) 605-3090
http://www.LifeguardMaster.com