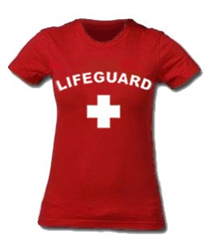 Comfort, style, and stands out as a professional lifeguard
Los Angeles, CA (PRWEB) October 23, 2014
Women are built differently than men, there is no doubt. Often times, women will have to result in wearing men's shirt styles because many companies do not offer certain shirts in women's styles. Many lifeguard women are fit and petite due to the muscular tone and strength that cause their bodies to be slightly smaller and therefore the men's shirt not fitting properly. For this reason, Lifeguard Master has created an entire new line of women's shirts specifically designed for women lifeguards.
Professionalism is key and comes number one. The lifeguard must be easily identifiable and stand out in a crowd. These bright red shirts and also the white shirts with red lettering do just that. A women can now wear something that stands out in a crowd as an emergency care responder while at the same time wear something that is comfortable during the long hours of lifeguarding.
When a smaller-sized woman wears a small men's shirt, the cut is often times uncomfortable due to the different body shapes and sizes the two genders have. Women shirts often times allow for the bust to fit comfortably as well as the arms to fit properly. Baggy shirts can be difficult to work in since they often do not fit correctly or fit awkwardly.
New shirts for the women's lifeguard t-shirt and tank top line at lifeguard master are fitted for the woman's body with comfort in mind. These shirts make great uniforms to easily identify lifeguards while on duty. Now those wishing to have a fitted lifeguard t-shirt or tank top will be able to eliminate discomfort of a bulky or baggy t-shirt.
"I love the t-shirts! I bought both the short sleeve and the spaghetti strap and I got compliments on them from many people. They shipped quickly and matched the description given on the website," says customer, Jaycie, from Coldwater, Michigan.
The line of women's shirts and tank tops are offered in three different colors with the word "LIFEGUARD" and a cross in the center of the shirt. The back also has the word "LIFEGUARD" and a cross in the center of the shirt so lifeguards can be identified in different directions. Perfect for the woman who wants to look a little more feminine on duty, these women's lifeguard shirts are affordable and make a great uniform.
Shirts from Lifeguard Master are made with extreme quality. These women's lifeguard shirts are American Apparel brand and are 100 percent pre-shrunk cotton. Lifeguard Master uses three coats of name brand ink when printing and then puts it through an intense heat process so the shirts look brand new after multiple washes.
Because of the bright contrasting colors for the shirt color base and the ink color, lifeguards can be identified easily for emergency situations. These shirts are great for both pools and beaches since the word "LIFEGUARD" and cross are printed both on the front and the back. For a video of the fitted spaghetti strap, please click on: Women's lifeguard tank top
Since these [women's lifeguard shirts are made of 100 percent pre-shrunk cotton, the shirt will fit like it did the first day for months to come. The shirt will also allow the lifeguard to remain cool throughout the day since the shirt is made of cotton, a fabric that easily breathes.
Lifeguard Master offers a variety of other women's wear including women's shorts, swimsuits, and board shorts for a complete lifeguard look and uniform. The company aims to be the one-stop shop for lifeguard supplies and is now extending their women's line even further with this new line of women's t-shirts and tank tops. For an article on the men's lifeguard t-shirt, please click on:Men's lifeguard t-shirts and tank tops
Sizes for most of these women's shirts range from size X-Small to 2X-Large, so the lifeguard can choose the size best for her and her comfort. Omitting distractions of discomfort is extremely important for lifeguards since any distraction can be at the cost of a life. Now lifeguards can focus on the pool or beach patrons with the utmost attention, while remaining cool and comfortable throughout their shift. For lifeguard Master's sister site, please visit: http://www.lifeguardshirt.com/womenslifeguardtshirt/
Lifeguard Master has been in the emergency and life saving industry for many years. Sammy, the owner and founder of Lifeguard Master, has been a lifeguard himself for seven years. He knows the importance have having all the equipment readily available for a first responder, and through the years, Lifeguard Master has become a robust lifeguard supply and lifeguard store company, accommodating the anticipating needs of first responders around the country and around the world. Lifeguard Masters determination to excellence and rescue safety has quickly made it a leader in its industry. For more information, please give us a call, send us an e-mail or visit our website. Also to stay updated with the latest news in emergency supplies, please visit our forum where rescue professionals from around the country and world stay connect and post the latest emergency news at LifeguardsOnline.com.
Sammy
Lifeguard Master
(714) 605-3090
http://LifeguardMaster.com