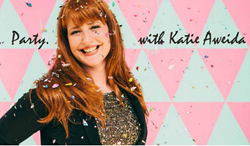 The key to creating a truly extraordinary wedding is to let the couple's personality influence their wedding choices.
Seattle, WA (PRWEB) March 14, 2014
Katie Aweida, the powerhouse owner of Wonderstruck Event Designs has created some truly incredible weddings. She makes such a splash with her wedding designs that she was recently featured in Style Me Pretty, one of Seattle's top wedding magazine.
For anyone that's wondered how she pulls off a stylish, personalized, rockin' wedding, Katie Aweida has created a blog post giving 10 of her favorite ways to make a couple's dream wedding come true. Whether or not happy couples have decided to book a wedding planner or are choosing to stage their romantic day themselves, this article is a must-read.
Throughout the article, Katie returns again and again to the fact that the key to creating a truly memorable and extraordinary wedding is to let the couple's personality influence their wedding choices. She mentions the importance and beauty of incorporating religious traditions into the ceremony or reception, from the traditional Jewish dances, to the Indian tradition of the groom riding in on a white stallion. "These aspects make the ceremony special and unique as you celebrate your beliefs," she says.
Katie also mentions that the couple's friends are often talented, creative, and eager to help boost the flare of the wedding party.
"Ask your friends to prepare musical numbers, poetry, funny stories, or other talent routines that commemorate your union with your soon-to-be-husband or wife!" Katie advises. "Chances are, the people that you hang out with have plenty of wonderful stories to share!"
Katie suggests that self expression shouldn't end there. The article goes on to advise that the most extraordinary weddings are full of personality in every aspect, including the decor and food. Couples that love sailing can use nautical decor. Pet lovers can incorporate their pets into the decor and even into the wedding ceremony. People that love hamburgers and fries above every other food can serve that for dinner with a milkshake for dessert! Southern belles and beaus may decide that a picnic-style BBQ displays their personalities better.
Katie's article also brings in a touch of technology, mentioning that "All your friends have smart phones and they'll all be documenting your wedding on social media anyway. So just give in and give yourself a hashtag." Using friends and family to create an online photo album? Brilliant.
About Wonderstruck Event Design:
Wonderstruck is a local Seattle service led by Katie Aweida offering professional event design. Katie describes herself as a "formerly practicing architect, a student of the graphic arts, an advocate of confetti and sparkles, and a planner to the max." She loves to bring fun and life to parties and weddings and has left behind a trail of happy clients.
http://wonderstruckeventdesign.com
1300 S. Dearborn Street
Seattle, WA 98144
katie(at)wonderstruckeventdesign(dot)com
206-538-0543