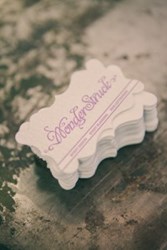 Seattle, WA (PRWEB) January 29, 2014
Wedding event planner, Wonderstruck Designs, has taken the rise of vintage or 'Old World' weddings entirely to heart. The designer, Katie Aweida, has released a series of blog posts highlighting each of the top trending time periods from which to spin the best wedding ideas, making for the most sensational wedding day.
"People have been obsessed with Downton Abbey and Mad Men for years now, and wedding styles are finally beginning to turn in their direction," Katie says. She couldn't be more thrilled about this new trend.
The first article of Katie's series focuses on the 'Roarin' 20's', which follow the exuberant examples of The Great Gatsby, Marilyn Monroe, and Grace Kelly. Katie suggests focusing on geometric designs in your invitations and designs, with crystal stemware, and even playfully toys with the idea of the wedding reception mirroring the secrecy inspired by the prohibition--a reception with coded messages to get inside, and old-fashioned cocktails hidden in teacups and vases.
The second article Katie put up celebrated the 'Jazzy 40's'. She reminds brides-to-be that lace and Oxfords were all the rage, and that bowties, suspenders, and chunky jewelry must feature somewhere in 40's style wedding party. The article gives a dozen ideas for wedding favors that originated from the era, as well as decorating tips for centerpieces and name tags. Scrabble, slinkies, and silly putty were all birthed in the jazz years, and music sheets reinvented as placemats and wrapped around bouquets will bring the sound of the 40's to life.
The most recent article released makes a thud with the larger-than-life voice of the 60's. Mad Men inspired, the blog post focuses on the classier half of the decade, when Audrey Hepburn and Cary Grant were fashion icons. Katie includes dress and decor ideas for both the bride and the groom, encouraging young brides-to-be to make sure the man of the hour doesn't get overlooked, because men of this era were nothing but classy. To round off the inspiration, Katie even includes a list of the best cocktails from the Mod 60's.
About Wonderstruck Event Design:
Wonderstruck is a local Seattle service led by Katie Aweida offering professional event design. Katie describes herself as a "formerly practicing architect, a student of the graphic arts, an advocate of confetti and sparkles, and a planner to the max." She loves to bring fun and life to parties and weddings and has left behind a trail of happy clients.