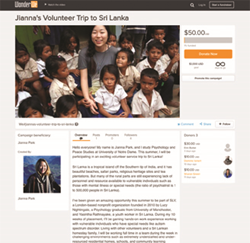 .....successfully reach our matching fundraising goal of $4000.....
Kansas City, Missouri (PRWEB) June 01, 2016
WonderWe LLC has officially launched the premiere crowdfunding platform for faith, family, and friends. Along with the donation-fee model, the WonderWe platform's innovative patent-pending features aim to create a culture of "we" in contrast to the conventional crowdfunding focus on "me." Features include team fundraising; built-in social networking; a We#code concept for sharing and promoting; and "promoter feature" and "video-ask" concept for peer-to-peer, personal fundraising requests with viral potential. The WonderWe app is mobile-ready with native and responsive products and can be downloaded on Apple and Android devices.
Many crowdfunding platforms have an "anything goes" approach, but WonderWe screens organizations that join and actively monitors campaigns to maintain a culture in keeping with the values of the WonderWe community. Existing mainstream crowdfunding platforms often restrict campaigns and organizations that may be considered out of step with the secular norm, such as those supporting pro-life and freedom of religion causes. These campaigns and organizations are welcome on WonderWe. The platform is already being used to raise funds for pro-life investigator Sandra Merritt after helping to expose Planned Parenthood's involvement with the sale of aborted children's body parts. Marcus Matthew, President of the Kansas City Startup Foundation highlighted his experience using WonderWe: "WonderWe's platform was instrumental in helping the Kansas City Startup Foundation successfully reach our matching fundraising goal of $4000. The platform was not only super easy to use, but the process of launching our fundraiser was very quick. Donors were able to donate to the cause quickly and easily, just the way it should be."
Furthermore, the success of WonderWe campaigns on behalf of the hungry in the U.S., those who fight for freedom of conscience in Sweden, and poor hospital patients in Ecuador demonstrates that the platform is effective. WonderWe can connect communities across the globe as they champion the dignity of those on the margins of society. Blessed Mother Teresa knew this connection was vital, writing, "What you are doing I cannot do, what I'm doing you cannot do, but together we are doing something beautiful for God, and this is the greatness of God's love for us — to give us the opportunity to become holy through the works of love that we do."
By linking social media to social justice, WonderWe unites the people who can give financial support and the people who can use it to do meaningful work together.
About WonderWe LLC
WonderWe is a crowdfunding technology company based in Kansas City that is dedicated to providing easy and free fundraising for faith, family and friends. WonderWe is inspired by the awesome potential for positive change when online connectivity combines with traditional community values. The WonderWe platform engages cutting edge crowdfunding features to unify campaigns with existing communities. For more information on WonderWe, visit WonderWe.com