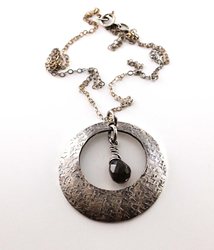 This Sterling Silver Washer Necklace is perfect for adding drama to casual daytime looks, and transitions easily to dressier evening wear.
Winston-Salem, NC (PRWEB) July 10, 2014
Kelly Warden, designer/owner, Woobie Beans (http://www.woobiebeans.com), Winston-Salem, North Carolina, has had her Sterling Silver and Smoky Quartz Washer Necklace worn by character Bonnie Bennett (actress Kat Graham) on Season 5, Episode 13 of CW TV's "The Vampire Diaries."
The necklace was selected for use by the show's wardrobe stylist Leigh Leverett, who received it as part of a stylist gift bag initiative coordinated by art promotions and celebrity gifting company The Artisan Group®, of which Kelly is a member.
"The goal was to create a statement necklace that referenced the overall Woobie Beans look and feel [high-polish, hand-stamped Mom jewelry in terms of construction but with darker elements appropriate to The Vampire Diaries," noted Kelly.
For the final design, Kelly selected a larger size, off-centered sterling silver washer to create asymmetrical tension and hand-textured and darkened the silver to deliver drama. She finished the washer with a suspended smoky quartz briolette and hung the piece on an oxidized sterling silver chain.
Of the selection Kelly says, "It's nice to know my design instincts were correct, and I couldn't be more thrilled to have created my first piece of The Vampire Diaries jewelry!"
The Sterling Silver and Smoky Quartz Necklace retails for $59.00 and can be purchased at woobiebeans.com.
Woobie Beans specializes in capturing memories for its clients with custom hand-stamped jewelry and memorial pieces, including necklaces, bracelets, rings, cuffs, key chains and Christmas ornaments.
"I think so many people have their best memories wrapped up in evenings spent under a quilt at Grandma's, with her singing "I love you a bushel and a peck" to them as they fall asleep," remarked the designer. "I love that I can create a tangible piece of art for these intangible stories of love."
Kelly is a wife, mom, jewelry designer and neonatal intensive care research nurse. She founded Woobie Beans in 2009 as a creative outlet and expression of her love for jewelry and accessories. The business has grown and evolved over the years to become a full-on endeavor that helps support her family.
Kelly's primary message to business owners just starting out is to never set limits on yourself and says, "Adopt a 'never say never' attitude, immerse yourself in learning and give one hundred percent of yourself to your business every day—and you will find that the sky is the limit."
Of the business name, Kelly states, "Woobie is our nickname for our daughter Sarah Kate. Beans is a fun analogy for beads, which is where I got my jewelry-making start."
Woobie Beans jewelry is in the hands of Selena Gomez, Amy Poehler, Nia Peeples, Alison Sweeney and Renee Zellweger. It was also selected for inclusion in a special Earth Day 2013 collaborative gift bag from The Artisan Group, which went to numerous celebrities, including Woody Harrelson, Ted Danson, Sting, Sheryl Crow, Rachel McAdams, P!nk, Orlando Bloom, Natalie Portman, Mark Ruffalo, Malin Akerman, Leonardo DiCaprio, Kate Bosworth, Julia Louis-Dreyfus, Josh Hartnett, Jake Gyllenhaal, Hayden Panettiere, Ginnifer Goodwin, Emily VanCamp, Edward Norton, Daryl Hannah, Courteney Cox, Cameron Diaz, Barbra Streisand, Alicia Silverstone and Adrian Grenier
To learn more about Woobie Beans, visit http://www.woobiebeans.com and follow it on Facebook, Twitter, Instagram and Pinterest.
ABOUT WOOBIE BEANS
Woobie Beans (http://www.woobiebeans.com) offers custom, hand-stamped keepsake and memorial jewelry, handcrafted by designer Kelly Warden. The company was founded in 2009 and is located in Winston-Salem, North Carolina.