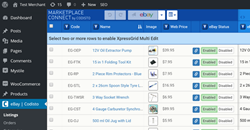 An extra 1 million ecommerce stores can now seamlessly sell on eBay.
San Francisco, CA (PRWEB) March 31, 2016
Online marketplace technology company Codisto launched a full eBay integration extension for WooCommerce today, ahead of exhibiting at the 2016 WooConf trade show in Austin, Texas.
MarketPlace Connect gives 1 million WooCommerce users the ability to quickly & easily integrate their WooCommerce store fully with eBay. All product catalog changes are reflected on eBay automatically and inventory is constantly in sync on both channels, updated by sales from either. Orders are automatically sent to WooCommerce for efficient processing, and shipping tracking and feedback are automatically left on eBay.
By offering time saving features such as product auto-categorization, image re-sizing and a fully responsive eBay sales template, MarketPlace Connect slashes eBay setup time for WooCommerce merchants. The clever 'XpressGrid' user interface design allows merchants to quickly manage eBay on an ongoing basis. Advanced features such as multi-account support, calculated freight functionality and custom attribute mapping satisfy the largest WooCommerce merchants.
"Releasing a WooCommerce version of MarketPlace Connect was an obvious choice for Codisto on the back of our hugely successful Magento release last year," said Jonathan Pollard, CEO Codisto. "Our extensions offer merchants a quantum leap reduction in the time, cost and effort to sell and manage eBay. We expect to meet some very excited WooCommerce developers and merchants at WooConf."