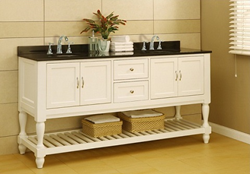 Open shelf bathroom vanities offer multiple unique types of storage, as well as an open, airy feel reminiscent of hotel spa bathrooms.
(PRWEB) November 05, 2013
HomeThangs.com – the Online Home Improvement Store has made their goal to deliver the right product to the consumer. With that in mind, shopping and home design tips, as well as special product selections are being introduced.
Bathrooms are becoming more relaxed, casual spaces, and with that trend, bathroom vanities have become a little less formal, too. Open shelf bathroom vanities are an especially popular option, as they offer both a breezy, spa like appearance and more efficient storage. HomeThangs.com has released a guide to using these vanities to create a luxurious contemporary bathroom with just a hint of a high-end hotel style.
Open shelf bathroom vanities are more or less what they sound like: vanities that eschew the traditional cabinet design in favor of smaller drawers or cabinets along the upper edge of the vanity, with an open shelf on the bottom. The base is often slatted but sometimes enclosed, and offers a great deal more white space than a conventional vanity. There are some single vanity styles out there, but the vast majority are large double vanities, either with two sinks or a single trough style sink.
This open approach to storage is actually part of a larger trend that's showing up in all different kinds of furniture, from bookshelves to kitchen islands and pretty much everything in between. This is in no small part because home design in general has become a lot more relaxed and casual in the last decade. Having many separate rooms and private spaces has lost popularity in favor of large, open communal spaces. By extension having everything stowed away and hidden has become less important.
Instead, homeowners are starting to gravitate towards lots of open shelf storage and traditional shelves divided up into cubes or smaller open-faced shelves. These simple square and rectangular designs offer a more modern feel. Wide open shelves have an especially airy feel, while bathroom vanities with many open shelves in the same repeating size and shape have the same slightly artsy feel as a cube bookshelf.
Both types of open shelf vanities pair amazingly well with decorative baskets and wicker or canvas storage cubes. Again, these have a more casual, almost beachy feel to them, and work great for storing spare towels, TP, or even hair care products or makeup. This has the dual effect of looking effortless and relaxed and actually keeping personal items a little better sorted than a traditional cabinet, as certain kinds of items (or each person's items) can be sorted into different baskets.
Open shelf bathroom vanities are also a little more efficient purely by virtue of the fact that all the closed storage is at roughly waist height. Depending on the vanity, this is usually a mix of drawers and cabinets, but rather than the very large cabinets typically associated with large vanities, these are about half the size. That means that everything in the cabinet beneath the sink can be reached while standing in front of it, no bending needed, making personal items more accessible while less often used items, or general bathroom items like TP and towels, can be tucked in baskets below and used like functional decorations.
Open shelf bathroom vanities have become especially popular lately with the rise in spa style bathrooms. These are very much the kind of vanities found in luxury hotels, and many homeowners have started adopting this open, accessible, breezy style in their own bathrooms. Paired with warm neutral tiles, plush white towels, and lots of wood accents, open shelf bathroom vanities are the perfect way to begin recreating that steamy, relaxed, sunny setting of a high end spa.
To see more open shelf bathroom vanities, check out some more great designs from Direct Vanity, or read the full article here.
HomeThangs.com is not only a home improvement superstore, it also provides expert design tips and a comprehensive shopping guide, taking the ideas from professional interior designers, and offering tips to the consumers on how to pick the products to best suit their needs.