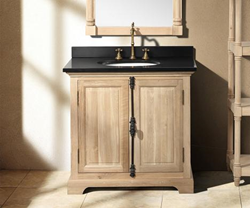 While most wood accents in the bathroom have to be able to stand up to constant moisture, bathroom vanities are relatively removed from the worst of the abuse, making them the safest way to incorporate natural wood into a spa style bathroom.
(PRWEB) August 27, 2013
HomeThangs.com – the Online Home Improvement Store has made their goal to deliver the right product to the consumer. With that in mind, shopping and home design tips, as well as special product selections are being introduced.
Spa style bathrooms have become hugely popular in the past few years, as homeowners seek to bring the luxury of high end resorts back home. These hotel-inspired bathrooms are all about relaxing, unwinding, and getting back to nature. They have a warm, inviting feeling, lots of natural light, and tactile elements that combine to create a lush, bright, open space. Natural wood is instrumental in creating this effect, and HomeThangs.com has introduced a guide to using natural wood bathroom vanities to incorporate wood into a spa style bathroom at home.
Many luxury hotel spas incorporate natural wood in one way or another, whether it's a small simple accent – like a wood plank shower floor – or an all-over design feature. But the problem with this for a home spa is simple: wood simply doesn't stand up well in wet conditions. Some types of wood are better than others, but the better it is, the proportionally more expensive it is. Wood bathroom vanities are one of the few ways to circumvent this problem.
While most wood accents in the bathroom have to be able to stand up to constant moisture, bathroom vanities are relatively removed from the worst of the abuse. Because they only have to battle with humidity rather than more direct contact with water, wood bathroom vanities can be more successfully sealed against moisture, even if they're made with a type of wood that isn't particularly water compatible. Using anything but teak in a shower floor will only lead to problems, but a well-finished solid oak vanity should last a lifetime.
Blonde toned wood bathroom vanities work especially well for a few different reasons. First, the unstained blonde wood evokes the honey toned cedar, fir, and spruce used in Nordic style saunas. Of course these woods are chosen for their moisture-friendly properties, but the style is so ubiquitous that it has come to be closely associated with healthful relaxation. Even having one central feature made out of natural wood – like the bathroom vanity – can "borrow" the style by acting as a visual cue.
A Nordic style spa bathroom works best either with lots of wood or with a small amount of wood paired with light stone or ceramic tile. Both setups can help amplify the brightness of a bathroom, making it feel large and open. On the other end of the spectrum, though, natural wood bathroom vanities – even the same – vanities can also evoke a more Asian style. Now, actual Asian bathrooms are less likely to have wood elements, but many Western luxury spa baths adopt an "oriental" style, combining light wood with other natural features, especially river stones, lagoon-like soaking tubs, and live plants or trees to create an earthy, almost elemental feel.
This highly tactile element is an essential feature of spa style bathrooms. Plush terry cloth robes, slightly rough wood underfoot, thick steam, and piping hot water are all crucial parts of the spa experience. It's also part of why wood is such a ubiquitous material in a spa style bathroom. Natural, light wood bathroom vanities lend to the ambiance, with a smooth, clean, unfinished look that emphasizes the simplicity and physicality of the space.
And, of course, wood bathroom vanities are a great way to draw a sense of nature into the bathroom space as well. Especially paired with green accents, like tile, towels, or even potted plants or fresh cut branches, leaves, or flowers, a blonde wood vanity can help blur the line between indoor and outdoor spaces. Especially in a bathroom with large exterior windows, unfinished, natural wood acts as an intermediary between live plants outside and the scrubbed-clean interior of the bathroom.
To find out more about these natural wood bathroom vanities, read the full article here, or check out more styles from James Martin Furniture.
HomeThangs.com is not only a home improvement superstore, it also provides expert design tips and a comprehensive shopping guide, taking the ideas from professional interior designers, and offering tips to the consumers on how to pick the products to best suit their needs.