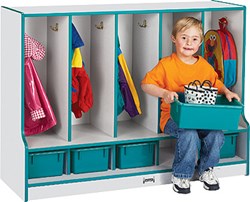 The wood toddler locker with seat and removable trays is exactly what it sounds like. This item is perfect for any toddler
Jackson, Mississippi (PRWEB) August 25, 2013
What do A Plus Warehouse customers love about product of the day? It is difficult to pinpoint one specific reason customers enjoy this feature at A Plus Warehouse. Possibly the reason is that the company takes the time and consideration to feature an item that customers may otherwise miss. With so many products offered at A Plus Warehouse, it is possible for a customer to be unaware of a few items the company sells. Product of the day is normally an item the company feels deserves more attention. Today's product of the day is the wood toddler locker with seat and removable trays. According to Ed Stairman, president of A Plus Warehouse, " The wood toddler locker with seat and removable trays is exactly what it sounds like. This item is perfect for any toddler."
This item is an ideal kid locker. JontiCraft manufactures all of A Plus Warehouse's kid lockers. A Plus Warehouse is proud to have a partnership with JontiCraft. JontiCraft is the leader in its industry for early childhood furniture. They offer a wide selection of innovative products. Such products include, portable sinks, lofts, art supplies, and of course lockers. JontiCraft takes pride in being a family owned and operated business. It gives the company a sense of community. Employees are also extremely friendly. Customers have quoted JontiCraft as being " Minnesota-nice". A Plus Warehouse is a proud supporter of JontiCraft products.
A customer may wonder why pick wood for children lockers. Wood has many benefits such as its aesthetic appearance. Many customers believe that wood is the most attractive material offered at A Plus Warehouse. It is also extremely different. Lockers are traditionally steel or metal. Customers should order a wood locker today. A Plus Warehouse also sells more than just childhood wooden lockers. Customers should look at the company's wood sport lockers, hybrid , and spa lockers.
The wood toddler locker with seat and removable trays to say the least is a mouth full. The item is shown on the right. The product includes 5 sections. Each section includes a teal colored removable tray. These trays make it easier for the child to change shoes and store items. The item also includes a seat for children to take their shoes on and off. Customers should consider ordering this product today.
A Plus Warehouse is the operator of http://www.apluswhs.com and distributes materials handling and storage equipment nationwide and throughout Canada. The sales staff at A Plus Warehouse is available at 800-209-8798. A Plus Warehouse has been in constant operation since 1996.