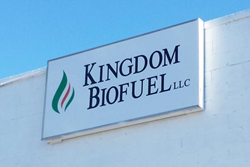 Lancaster, PA (PRWEB) September 02, 2016
While the going has been tough for the folks at Kingdom BioFuel, their new wood pellet mill in Peach Bottom, PA is up and running. It's been a rough road and drawn out situation, report the managers and owners of Kingdom BioFuel, but the biomass pellet mill is now pressing out wood pellets for customers in PA and MD.
For months, Kingdom BioFuel has been setting up their Wood Pellet Mill in PA to supply their growing list of pellet loving clients in PA and MD. The pellet mill first came to their location nearly one year ago after being dismantled in the New England states by their own team. They loaded the massive system onto several large trucks and transported the pellet mill parts to their new location in Peach Bottom, PA.
Hopes were to have the pellet mill up and running in a month or two but delays kept coming along. From the difficulty of proper electrical systems at their new location to the challenges of using a different kind of shavings than the dye was made for, one problem after another kept delaying their progress, and thus the possibility of wood pellets being available to customers.
During this time, Kingdom BioFuel contracted with another bulk wood pellet mill in PA to meet the surge in demand for their pellets. Due to online marketing combined with another dealer sending dozens of clients their way, KBF has experienced unprecedented growth in the demand for pellet fuel in PA, DE and MD.
Kingdom BioFuel began when Steve Fisher of Peach Bottom, PA was experimenting with cheaper heating solutions during the time of high oil prices. What surprised Steve most and moved him to action was the difficulty of finding premium wood pellets in PA. The supply was low and the number of biomass pellet mills was even lower. He joined a friend and started selling bulk wood pellets from another wood pellet mill in PA.
The business began to grow and soon they invested in a state-of-the-art pellet truck with a blowing system to blow bulk wood pellets into bins in the basement or garage of their customers. This meant they were not setup well to deliver bulk wood pellets and cut out the hard work of their customers carrying bags of pellets and stacking them in the garage or basement.
Today, they offer bulk wood pellets for PA, DE and MD as well as bagged pellets by the ton. They also offer highly efficient pellet stoves, pellet boilers for commercial and residential spaces and pellet storage units. If one wished to build their own storage unit and move to bulk pellets, they even offer free bin plans to get them started.
For now, the business is growing and their online leads and referrals continue to grow year after year. The new 10,000 ton per year pellet mill will be a great addition for those in central PA, MD and DE who wish to move to a more earth friendly heating solution such as bulk wood pellets.