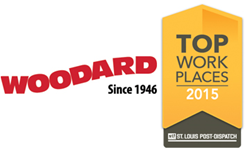 "This is such an honor for Woodard, and we are very proud of our strong employment brand." Dave Christoff - Vice President
St. Louis, MO (PRWEB) July 02, 2015
Woodard Cleaning & Restoration is thrilled to be named a Top Workplace in the St. Louis region for 2015, as presented by the St. Louis Post-Dispatch in partnership with WorkplaceDynamics! This honor was provided by Woodard's unbeatable workforce, whose dedication to the company and its clients is unmatched.
How Top Workplaces are Identified:
For the past 4 years, the St. Louis Post-Dispatch has partnered with WorkplaceDynamics, a survey firm, to identify the top St. Louis workplaces in three size categories - small (less than 150 employees), midsize (150-499 employees), and large (500+ employees). The process began earlier this year when the Post-Dispatch invited readers to nominate local employers. Companies that were nominated allowed WorkplaceDynamics to survey their employees, gauging how they felt about their workplaces. WorkplaceDynamics required a 35% response rate from employees in order to get an accurate reflection of workplace satisfaction.
How Woodard Ranked:
Out of 164 companies that participated this year, WorkplaceDynamics identified 100 that had high enough scores to be named Top Workplaces, and Woodard is one of them! In the midsize category, Woodard ranked as #35 and was the only cleaning & restoration company on the list. Among the 6 factors listed on the survey, employees rated Woodard the highest in "Alignment," which contains the following factors:
"I believe Woodard Cleaning & Restoration is going in the right direction."
"I have confidence in the leader of Woodard Cleaning & Restoration."
"Woodard Cleaning & Restoration operates by strong values and ethics."
What's Life Like at Woodard?
Woodard Cleaning & Restoration is a family-owned company, and all employees on the team quickly become part of this family. The staff is a very close-knit group with many employees becoming friends outside of work as well as while they're here. Leadership recognize and celebrate the team's successes on a regular basis, provide ongoing training and feedback to staff to support continuous development, and really do have fun while doing it. Woodard works hard to deliver superior customer service, which allows the team to play hard as a result. The team enjoys a variety of team events including office parties, baseball games, golf tournaments, and more, and promote as much interaction as possible for everyone to get to know one another and enjoy their time at Woodard. The Woodard team recently relocated to a beautiful new Customer Response Center complete with a fully decked out rec room and an open office environment, which promotes collaboration and community.
"This is such an honor for us, and we are very proud of our strong employment brand. Woodard has an ever-growing workforce and we will continue to provide a solid foundation, fun environment, and team culture for our staff." Dave Christoff - Vice President of Sales and Marketing
About Woodard Cleaning & Restoration:
Woodard Cleaning & Restoration Services was founded in 1946 as St. Louis' first in-home rug and carpet cleaning company, and is now the area's largest commercial and residential cleaning company for carpet, rugs, furniture, and hard surfaces. Additionally, Woodard Cleaning & Restoration is a preferred provider of water and fire mitigation services, as well as disaster reconstruction for residential, commercial, and institutional facilities. For more information, visit Woodard's website at Woodard247.com, or call (314) 961-9102.