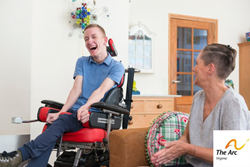 We're passionate about activating community support for the beneficiaries of our Community Program.
Woodbridge, VA (PRWEB) February 15, 2017
Hernandez Insurance Agencies of Woodbridge, McLean and Lorton, VA has announced the initiation of a master charity program created to strengthen the communities they serve. The agency pledges to select a new beneficiary every 60 days, working closely with nonprofit organizations and community leaders to seek out those who most need help. Their wish is to bring awareness to important local causes by forming campaigns which aid worthwhile organizations, families and individuals. "We're passionate about activating community support for the beneficiaries of our Community Program," said Jorge Hernandez, owner of Hernandez Insurance Agencies.
To debut the new community involvement program, Hernandez has elected to support The Arc of Greater Prince William/INSIGHT. For 52 years The Arc has been providing opportunities for people with developmental disabilities to achieve their greatest potential for growth and independence. The organization has grown greatly over the years, and today, as one of the oldest nonprofits in Prince William Country, The Arc provides a whole host of services – residential services, child care, family support, recreation programs, adult day support services and much more. This year alone, more than 2700 people will be empowered and served in a manner which protects their rights and their dignity.
The donations page for each featured campaign will be accompanied by a fully detailed story outlining the cause. The team at Hernandez Insurance will also spread the word through its own vast network of customers, business associates, neighbors and friends. To join the agency in support of local people with intellectual disabilities, donors may visit https://www.crowdrise.com/empowering-people-with-intellectual-disabilities-in-our-community and are asked to share the page with their own personal and professional networks. Hernandez Insurance also produces a monthly publication, Our Hometown magazine, which will use a full page to highlight each selected Community Cause. The electronic Flipbook version of the current issue may be enjoyed at http://hernandezinsuranceagencies.com/magazines/.
About Hernandez Insurance Agencies
A full-service insurance and financial services provider serving families and businesses from offices in Woodbridge, McLean and Lorton, agency owner Jorge Hernandez knows many local families. This knowledge and understanding of Virginia's people help him to provide customers with an outstanding level of service. Hernandez and his team of dedicated professionals work diligently to help families protect the things which are most important to them – their families, homes, businesses, cars and more. They also prepare strategies to help clients achieve long-term financial goals. More information about the agency is available at http://hernandezinsuranceagencies.com/. To speak with a caring expert, please call McLean (571-386-2971) Woodbridge (703-822-7755) Lorton (703-339-5300).