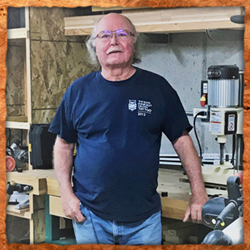 I would love to be able to make something that will bring memories of me to my children.
PARKERSBURG, W.V. (PRWEB) May 31, 2019
A retired veteran and former postal worker from Boulder City, Nevada, is the Grand Prize winner in the "Build It! with Jory and John Sweepstakes" sponsored by Woodcraft, Jory Brigham Design Studio and SawStop. Bruce Kuveke's name was drawn randomly from 26,240 names of entrants in the sweepstakes between March 1 and April 30, 2019.
Kuveke's $10,000 Grand Prize package includes a three-day training class at Brigham Design Workshop and Training Center in Paso Robles, California, for him and a companion, the custom wood and metal bench made during the class, and a SawStop Professional Saw valued up to $3,149. The Grand Prize also includes a flight to and from San Luis Obispo, California, and four nights on-site lodging for Kuveke and his guest.
Ready for a Furniture Building Challenge
After serving 21 years in the US Air Force, Kuveke retired and went to work for the US Postal Service, where he retired a second time after 22 years.
Kuveke describes his woodworking experience so far as "rough carpentry," which for Kuveke means building the family's 3,200-square-foot cabin up in the mountains of central Utah and making boxes used to transport items for his target shooting hobby. Now Kuveke said he wants to learn to build furniture, a goal that will fit right in with his Grand Prize class experience. A friend from Riverside, California, will join Kuveke for the three-day class scheduled for October.
"I have a rocking chair that my Dad made and it is one of my most prized possessions," Kuveke said. "I would love to be able to make something similar that will bring memories of me to my children."
To learn more about Kuveke, read the Woodcraft blog: "Nevada Man Wins Woodworking Class of a Lifetime."
Other Winners
Matt Sams from Tucson, Arizona, won the Second Prize, a WoodRiver Ultimate Bench Plane Kit that includes No. 3, No. 4, No. 5 and No. 6 Version 3 bench planes, a $574 value.
The 20 Third Prize winners will each receive a $50 Woodcraft Gift Card, which can be used in their local store, online or for a catalog order. They are: Tyler Aldrich, Springfield, Oregon; Brian Amacher, Pierson, Michigan; James Askew, Madison, Mississippi; William Barnes, Fayetteville, Arkansas; Troy Campbell, St. Petersburg, Florida; George Caulker, Stone Mountain, Georgia; Gorkem Cilam, Easthampton, Massachusetts; Jim Dunn, Huntsville, Alabama; George Flowers, Memphis, Tennessee; Austin Hoops, Vincennes, Indiana; Daniel Joseph, Colchester, Connecticut; Gerald Lew, Hacienda Heights, California; Adam McCluskey, St. Louis, Missouri; Lisa Ormsby, Fulton, New York; Thomas Pickens, Parkersburg, West Virginia; Rick Redfield, Soldiers Grove, Wisconsin; Lynda Steely, Lakeport, California; Corey Swanson, Minneapolis, Minnesota; Bryan Thompson, Whitehouse Station, New Jersey; and Gary Wieck, Dumas, Texas.
Grand Prize Quality Instruction
West Coast furnituremaker Jory Brigham and East Coast builder John Malecki will teach the furniture building class that Kuveke won, along with designer Jason Radcliffe from 44 STEEL in Cleveland, who will assist with the welding portion of the instruction.
Brigham grew up around woodworkers and craftsmen, so he discovered his creative voice at an early age. With a modern take on nostalgia, he designs his pieces with mid-century flair and the idea that furniture should last. To learn more about Brigham, visit jorybrigham.com.
Becoming a furnituremaker almost happened by accident for Malecki. The former NFL player, who had two stints with the Pittsburgh Steelers, recalled, "I came home from a game to find that a roommate of mine sat on our coffee table and it broke, so we needed a new one." Find out more about Malecki on his website johnmalecki.com.
Brigham and Radcliffe met on the set of Spike TV's 2015 reality show Framework. The two now collaborate on Brigham's metal and wood bench classes like one Kuveke will attend. View Radcliffe's designs at 44steel.com.
For more information about Woodcraft, contact your local Woodcraft store, visit woodcraft.com or call (800) 535-4482. To learn about Woodcraft franchise opportunities, visit woodcraftfranchise.com or email woodcraftfranchise@woodcraft.com.