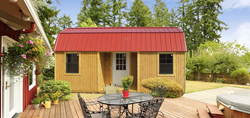 Rose Hill, VA (PRWEB) September 01, 2016
In the past, Timberline Barns LLC of Rose Hill, VA has sold wooden storage sheds from their network of dealers in VA, KY and TN. However, with the recent launch of a new website built by E-Impact Marketing of Lancaster, PA, Timberline hopes to expand the reach of their storage sheds and garage customers through an online presence.
From a small family beginning in 2006, Timberline Barns has grown to include a network of dealers and company owned lots, a handful of employees and now a new website to market their vinyl structures, metal structures and wooden storage sheds in VA, KY and TN. Timberline Barns focuses most of their time on building affordable wooden storage sheds in VA, but also offers metal sheds and vinyl storage sheds. Those portable structures then find their way to homes and businesses in the southeastern corner of VA and neighboring KY and TN.
Timberline Barns moved to manufacturing storage sheds and prefabricated garages in two locations. The original home office and manufacturing location in Rose Hill, VA continues producing the majority of their portable storage sheds and garages, but with growing demand over the past few years, the new owner Daniel Vendley opened another manufacturing facility in Mays Lick, KY. Today, they are better equipped to serve more storage shed customers in VA, KY and TN.
While the manufacturing facilities in VA and KY are important to their business, another key to growth has been the use of sales lots. These storage shed and prefab garage sales lots are located in Norton, and Richlands, VA, Harlan, Corbin, Pickeville, London and Middlesboro, KY as well as Kingsport, Mosheim, Dandridge, Tazewell and Clinton, TN.
Timberline Barns was founded in 2006 by the late Philip Eicher. In 2014 the business changed hands and has enjoyed significant growth since that time. The new website design is one step in helping Timberline reach new people and help folks within their delivery area to get affordable storage buildings that will last a lifetime.