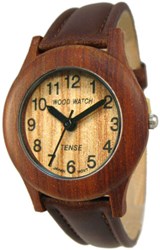 (PRWEB) September 30, 2013
BillytheTree.com has already seen a surge in sales of its collection of Tense Wooden Watches, with a variety of styles for men and women. These one-of-a-kind timepieces are made in British Columbia, Canada, using only the best natural materials from Africa, India and other exotic locations around the world.
The jewelry retailer has made predictions that this is going to be a very hot product commodity as the holiday and gift-giving season is fast approaching.
"For anyone interested in getting a wooden watch, whether it's a gift for a loved one or even for yourself, I'd highly recommend buying early!" says Robin Weber of BillytheTree.com. With their unique grains, shades and color combinations, wooden watches have been a favorite of nature-lovers and watch enthusiasts for decades.
BillytheTree.com has an assortment of wooden watches ranging in price from $95-$189. The watches include selections of wooden and leather bands, as well as a round sandalwood pocket watch with a gold clip. Both standard and digital dials are available, with a range of single-function displays to more complex displays featuring calendar dates, dual-dial chronographs and luminescent hands. All the Tense Wooden Watches are hypo-allergenic.
For more information or to purchase a wooden watch, visit http://www.billythetree.com/Handmade-wooden-watches.aspx.
About BillyTheTree.com
Founded in 2004 by Robin Weber when he was still a senior in high school, BillyTheTree.com offers a large variety of affordable, yet high quality jewelry, watches and sunglasses. The company offers free worldwide shipping on these product lines, which include almost 12,000 items, consisting of magnetic jewelry, sterling silver jewelry, jade jewelry, high performance sport sunglasses, and more.