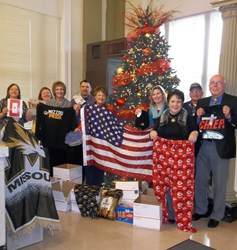 I can't begin to express just how proud I am of our employees for the heart-felt giving that our people display not just during the holidays, but throughout the year. - Barry Randolph, president, Wood & Huston Bank
Marshall, MO (PRWEB) December 11, 2013
It is at this time of year that we Americans frequently take time to pause and think about those brave men and women that are placing themselves in harms way to serve our country in the military to protect our freedoms. The management and employees at Wood & Huston Bank take seriously the service of our military, and this year the bank is going the extra mile to recognize those serving in the military.
Through individual donations and the organization of a 5K Run/Walk, Wood & Huston Bank has raised over $5,000 to donate to Segs4Vets (http://www.segs4vets.org), a non-profit organization supporting those returning military that have undergone serious and permanent disabilities while in service to their country.
In addition to Wood & Huston's contribution to Segs4Vets, during this holiday season as well as throughout the year, bank employees are collecting non-perishable food, as well as, personal care items to put together packages that are then shipped to our service men and women serving in Afghanistan, and other locations over seas. Typically, the focus of the giving is to lift up a spouse, son, daughter or other family member of the bank's employees that are serving overseas to make for a more personal connection for employees. Baskets are set out around the branch to facilitate collections.
"Having a son in the military makes this program hit home for myself and my wife," says Barry Randolph, president of Wood & Huston Bank. "I can't begin to express just how proud I am of our employees for the heart-felt giving that our people display, not just during the holidays, but throughout the year. All year long, our program of supporting our troops collects and ships needed personal care items and non-perishable food to our troops serving in harms way."
Mr. Randolph goes on to tell of how service personnel are making a special connection with bank employees. "One of our employees came up with an idea to accompany each shipment with an American flag. The service person receiving a flag is requested to fly the flag at their post. Then, when one of our own service members returns home, we ask that they come to the bank to personally present the American flag to one of our employees. As one might imagine, this is a very emotional and meaningful occasion that brings full circle a demonstration of mutual gratitude that those present do not soon forget."
The employees and management of Wood & Huston Bank want to extend the challenge to all Americans to lend their personal support to our brave men and women of the military by making a tax-deductible donation to Segs4Vets program. Visit the Segs4Vets website at http://www.segs4vets.org/Donate.aspx to provide your financial support to this valuable and worthwhile cause.
About Segs4Vets
Founded in 2005, Segs4Vets http://www.segs4vets.org is a non-profit organization with the sole purpose of providing our returning service men and women that have suffered serious and permanent disability with the resources and tools necessary to be able to live the highest quality of life possible. The program provides successful candidates with a universally designed mobility device known as a Segway to solve many of their mobility challenges without drawing attention to their physical disability. The Segs4Vets program has continued to explore funding opportunities to expand the Segs4Vets program to meet the need of our continuing casualties in Afghanistan and the percentage of those medically evacuated from Operation Enduring Freedom & Operation Iraqi Freedom over the last 10 years. Currently the Segs4Vets program is budgeting for an additional 200 awards through November 2013,
About Wood & Huston Bank
Established in 1874, Wood & Huston is your independent, full-service community bank that in 2014 will be celebrating 140 years of providing a wide range of quality financial products and solutions to the communities that they serve in Missouri—with branches and/or service locations in Cape Girardeau, Jackson, Marshall, Slater, Springfield and West Plains. Wood & Huston provides the convenience of online banking, mobile banking, high interest checking, along with competitive rate loans for its customers. It's Wood & Huston's history and mission that distinguishes it from so many banking institutions. Personal service has been a legacy passed on from generation to generation for Wood & Huston Bank. The Bank operates with a philosophy that its reputation must be recreated every single day to meet each new challenge. To learn more about Wood & Huston, explore its website at http://www.woodhuston.com, drop by one of the convenient locations or call (660) 886-6825.