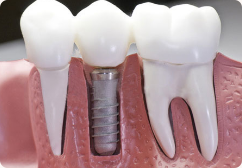 Woodland Hills, CA (PRWEB) December 13, 2013
Dr. Kaveh Kanani, DDS, the top dentist in Woodland Hills, has unveiled holiday season specials for dental implants for only $398.00 and he is also offering complimentary consultations for first-time patients at his clinic in Woodland Hills.
Skilled at conducting dental implants, Dr. Kanani, DDS, is renown in his field as the man who revolutionized this tricky procedure. This Woodland Hills dentist has engineered a method that cut down the dental implants cost by $4,000. Patients come from all over the world to take advantage of Dr. Kanani's skills.
Dr. Kanani's 4-year term as an associate in Dental Health Institute of West Los Angeles, Southern California Family Dentistry, and South Bay Dental in Gardena has equipped him with the knowledge and talent to be the best of the best. Upon opening up his own dental clinic in Woodland Hills, Dr. Kanani perfected the method of inserting dental implants, making him the top dentist in Woodland Hills.
According to Dr. Kanani, the insertion of dental implants is a great way to combat tooth loss. A small titanium shaft, also known as the dental implant, is implanted into the patient's jawbone and left to set. The bone will then grow around this titanium shaft, forming a very tight connection. This will slow down or completely stop more bone loss from occurring. Once the titanium shaft has set, the dentist will attach the replacement tooth over it, giving the patient a second chance at owning a perfect set of teeth.
This dental implants procedure is known as the Flap Procedure. The dentist will specifically make an incision in the gums and drill a hole in the jawbone. The titanium shaft will then be placed into the hole and closed up to heal over a period of between four to six months. Not only is this procedure painful, it also costs a significant amount as most patients have to be under anesthesia.
In many cases, patients have to undergo bone graft surgery before being able to get dental implants. This is because most patients who require dental implants are living with moderate to severe jawbone reduction. A small block of bone will be removed from another part of the body and placed into the jawbone. This is done so that the titanium shaft has a strong foundation to rest on when inserted into the jawbone. Patients who need bone graft surgery will find that their dental implants cost will increase by up to $4,000. On top of that, patients who have to go through bone graft surgery face a longer recovery period than those who do not.
Dr. Kanani has added a twist to the conventional method of inserting dental implants. Known as the Flap-Less/Drill-Less Surgery method, Dr. Kanani's way of performing the dental implants procedure uses a string of dental instruments to expand the jawbone. A small gap is formed and the titanium shaft is placed into it. Because this dentist from Woodland Hills eliminates the need for his patients to go through bone graft surgery, the entire procedure of getting dental implants will cost a lot less. Additionally, because Dr. Kanani eliminates the need to cut and drill into the jawbone, his patients are put through much less pain and require less healing time.
To find out more about this dentist in Woodland Hills and his incomparable way of inserting dental implants, contact Dr. Kanani's clinic at (818) 962-1141 or woodlandhillsdentalspa(dot) com to arrange for a complimentary consultation.