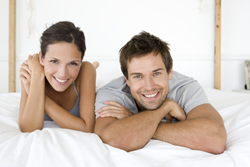 Los Angeles, California (PRWEB) December 30, 2014
Dr. Kaveh Kanani D.D.S. has recently extended his impressive list of dental procedures to include not just general dentistry but cosmetic dentistry as well. As the head of Around the Corner Dental Health Spa, Dr. Kanani has turned his practice into one of the most popular family dentistry clinics in Woodland Hills.
One of the reasons why Dr. Kanani is well known amongst patients and peers is because of his forward thinking mindset. Not too long ago, he engineered an innovative procedure to insert dental implants. His method takes up less time, is simpler to carry out, offers the patient a shorter healing period and of course, is significantly lower in price when compared to conventional dental implants costs.
Coined the Flap-less/Drill-less Surgery Method, Dr. Kanani's way of inserting dental implants has taken the medical community by storm, sealing his fate as one of the most innovative general dentists in the country. Besides dental implants, Dr. Kanani is also well known for other procedures.
Veneers
Depending on the condition of the patient's teeth, the entire process of placing dental veneers will take between two to three visits. The first visit entails some simple prepping. Dr. Kanani will take impressions of the patient's teeth to create a mold for the permanent veneers. The creation of these veneers could take up to several weeks so in the meantime, Dr. Kanani will place temporary dental veneers over the teeth to keep them from shifting. Once the permanent veneers are ready, Dr. Kanani will remove the temporary ones and clean the teeth and gums before cementing the permanent veneers onto the patient's teeth. As the top family dentist in Woodland Hills, Dr. Kanani is highly skilled when it comes to cosmetic dentistry and has received rave reviews for his work.
Crowns
Crowns are inserted to cover up and protect badly damaged teeth. Dr. Kanani will normally recommend crowns for patients who have misaligned, stained, broken or chipped teeth. Patients can choose whether they want their crowns to be made out of gold, metal, porcelain, porcelain combinations, E-Max or composite resin. Depending on the type of material they opt for, crowns can last up to 10 years and are the perfect quick-fix solution for damaged teeth.
Invisalign
Known as an alternative to unsightly braces, Invisalign works to straighten teeth using a series of clear, custom-molded aligners. Throughout the course of the procedure, patients have to change their aligners every two weeks, which in turn slowly moves the teeth into position until the perfect smile is achieved. As they are aesthetically pleasing, removable and more comfortable, it comes as no surprise that this Woodland Hills dentist recommends this innovative form of teeth straightening to his patients.
In line with the holidays and upcoming new year, Dr. Kanani and his impressive team at Around the Corner Dental Health Spa are offering complimentary consultations for first time patients. Those who have been putting off their dental appointments now have the chance to be worked on by the very best. To make an appointment or to find out more, call (818) 962-1141 or head to http://www.woodlandhillsdentalspa.com.