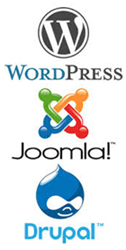 WordPress vs Joomla vs Drupal
(PRWEB) March 23, 2014
Threehosts.com compares the most popular Content Management Systems and provides a collection of websites created by them.
A comparison of capabilities and features on Drupal, Joomla and WordPress and a showcase of live websites powered by each program are available at http://www.threehosts.com/ratings/comparison-software/wordpress-vs-joomla-vs-drupal.html.
Joomla is used to power everything from simple sites to complex ecommerce websites. It can be used to create a personal blog, a website for a nonprofit organization, or to create a community around a topic. Joomla can be used to manage every aspect of any website - from adding text content to updating a product catalog or taking online reservations. New features are being added with each new release, and with the help of the informative user community, it's software with a great future.
Drupal can be used to create any website containing informational pages, blog posts, news items, polls, etc. When clients install Drupal with the default installation profile, they will have two content types defined: "Article" and "Basic page". When they enable other core and contributed modules, they will find that they have other content types available. They can also create their own content types. They can set up their own custom content types by going to Menu > Structure > Content types > Add content type. They might do this as a way to organize their content.
Since WordPress is extremely customizable, there is no limit to what type of website users can build using it. With thousands of templates and themes, as well as thousands of plugins it's never been easier to set up a custom website using WordPress. There are many different types of websites powered by WordPress, and they span over 100 languages.