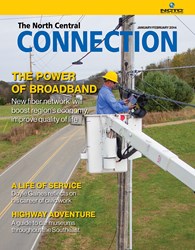 Rural utilities have an incredibly powerful story to tell. Theirs is a human story, about the real lives they are making better through the service the deliver. And that's where content marketing begins.
Rainsville, Alabama (PRWEB) February 02, 2014
One of the great American success stories is how the country delivered on a commitment to take electricity and telecommunications service into rural America. A professional services firm in North Alabama is celebrating 18 years of helping these utilities tell their stories through publications, advertising and public relations.
WordSouth — A Content Marketing Company was formed on New Years Day of 1996. What began as a two-person operation in a small, spare bedroom has grown into a company that is helping rural utilities across several states to educate, inform and engage their consumers through content marketing.
"Rural utilities have an incredibly powerful story to tell," says Stephen V. Smith, who launched WordSouth alongside his wife, Michele. "Theirs is a human story, about the real lives they are making better through the services they deliver."
The discipline of content marketing has come to be recognized in recent years as a powerfully effective means of connecting with a target market. It centers around the idea of sharing content that is helpful, interesting and entertaining in an effort to engage consumers with a company's products, services or mission.
"Simply put, content marketing is about telling your story," says Smith. "Storytelling is the heart and soul of the mechanics of content marketing."
In the case of rural utilities, the stories are particularly compelling. "The companies who deliver broadband and electricity to America's rural communities have faced tremendous challenges in the past two decades — from rapid changes in technology and government regulations, to shifts in consumer demand," says Smith. "By sharing stories of how they are supporting and even reshaping the communities they serve, these companies are helping their consumers understand and participate in their efforts to build a better quality of life in rural America."
WordSouth's latest project is the Regional Telco Magazine, a consumer magazine for the rural telecommunications industry. Written, designed and produced by WordSouth, the magazine is mailed to the customers and prospects of those companies participating in the project.
Half of the 16-page magazine features industry news and content of regional interest. The other eight pages are customized for each utility, highlighting the people, businesses and community institutions who benefit from the services they provide. The telcos also use their local pages to share company announcements and promote their offerings.
"It's a strong combination," explains Smith. "Readers enjoy custom content from their hometown, plus a broader mix of news and features from across the country."
The timing for such a publication is ideal. "Telcos need this type of publication now more than ever," says Smith. "The business of delivering telephone, Internet and related services is being transformed. The independent and cooperative providers who serve America's rural regions are feeling the pressure as new revenue models tighten budgets and realign priorities."
Rural and independent telcos often serve regions with low consumer density, yet manage to provide advanced telecommunications services that promote economic development, enable small businesses to compete, support education and foster an improved quality of life.
Smith says after 18 years, the WordSouth team is more committed than ever to the company's mission. "Our clients have a mission of helping the people of rural America enjoy better lives," he says. "And our mission is to help them achieve that. Knowing you play a role in making that happen is something you can get excited about when you come to work each day."
Smith leads WordSouth as its president, while Michele directs the artistic efforts as creative director. The WordSouth team consists of six other awesome team members and a network of talented freelancers in several states.