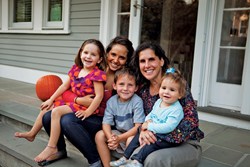 When I am working from home, the au pair is in charge and the kids know to go to her and not me.
Cambridge, MA (PRWEB) July 31, 2013
Whether a parent works from home because they run their own business or because their employer, as well as their role within the company, allow them to telecommute, there are several challenges to working from home. Despite the difficulties, however, the number of people working from home is growing. Census data shows that 9.5 percent of American workers work full- or part-time from home and the Bureau of Labor Statistics reports that around 25 percent of employed Americans work from home at least some hours each week.
In a recent survey, Cultural Care Au Pair, an au pair program that provides in-home childcare to thousands of working parents nationwide, found that among families who use in-home child care, working from home is even more prevalent. Among the families surveyed, 26% indicated that they or their spouse worked regularly from home and an additional 48% said that at least one parent worked from home for a portion of the work week. Why do more parents with au pairs work from home? Using au pair childcare makes working from home not only possible, but also highly productive by helping to overcome some of the challenges of working from home:
Creating a schedule
The first suggestion that experienced work-at-home parents offer, even though working from home provides a great deal of flexibility, is to establish a set schedule for the work day. This allows parents to remain focused and on task and can start with setting the au pair's schedule. The flexibility of the au pair program permits working parents to create a schedule that allows for time differences in other countries or parts of the U.S., busy times in the office and personal peak working hours.
Setting boundaries
Another major challenge of working from home is setting boundaries. This means establishing limitations for others – children, neighbors, family – as to when you are available and when you are working. An au pair can help with this and play the role of gatekeeper. One host mother commented on the work-from-home survey, "When I am working from home, the au pair is in charge and the kids know to go to her and not me."
This can also mean setting personal boundaries and not allowing oneself to work too many hours. Although they can work a flexible schedule, au pairs are only allowed to work up to 10 hours per day. Host parents find that they are motivated to stay focused on work during the au pair's working hours, so they can enjoy focused and attentive time with the kids when she is off duty.
Distractions
Working from home, parents may find themselves trying to fit "life maintenance" activities into the time that you should be working – laundry, cooking, cleaning, and driving kids to activities or appointments. Having an au pair means that parents can spend the day in their home office, knowing that the breakfast dishes will be put away, the kids' laundry will be done, the carpool responsibilities are taken care of and dinner is started.
Social isolation
According to AllBusiness, feeling isolated and alone can be one of the greatest challenges of working from home. You lose the chance to have connectivity in the office as well as having social interaction throughout the day. Not only can an au pair offer conversation when taking a break and checking in with her, but having her there at home means working parents can go out and meet a friend for breakfast or attend a networking lunch.
School's out for summer
Work at home parents without childcare look forward to the last day of school with anxiety. The productive serenity of their home from 8:00 to 2:30 will soon be filled with kids needing attention and rides to camps and activities. An au pair can keep them fully entertained all day throughout the summer months.
Unforeseen events
Sick child? An au pair can provide the extra attention the little ones need while parents keep working. Last minute meeting at the office? No need to scramble for childcare. Snow day? Parents stay productive while the au pair builds snowmen and takes the kids sledding. The house loses power or internet? Bringing a laptop to Starbucks to work may not be ideal, but it would be impossible with a toddler in tow.
Children are often a factor in the decision to work from home, but that doesn't necessarily make juggling work and kids any easier. There are unique challenges associated with working from home and, for many parents, having au pair makes work, and life, a whole lot easier.