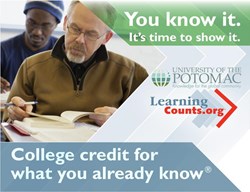 Washington, D.C. (PRWEB) August 19, 2013
University of the Potomac has announced a partnership with LearningCounts.org, a unique online resource that helps adults earn credit for college-level knowledge acquired outside the classroom.
LearningCounts offers online portfolio development classes, portfolio evaluations, and prior learning assessment (PLA) resources. LearningCounts assesses Learning Portfolios built upon an individuals' knowledge – from job or military training, volunteer service or other relevant experience – for college credit. In addition to empowering individuals to go back to school and take the next step in their careers, research indicates students who receive PLA credit have higher graduation rates than students without it.
Potomac and LearningCounts will work together to achieve the goal of reaching more students, and giving them more opportunities to earn college credit for what they already know. Many students have deep knowledge in a specific area, and these can be applied as general liberal arts credits or credits toward their major.
LearningCounts offers students advice from a College Credit Specialist and expert faculty evaluations of Learning Portfolios. These services save students time and money in their quest for degree completion.
"Many of our students have received significant training and learning experiences in their careers. We are excited to partner with CAEL and LearningCounts to offer an additional pathway for students in earning credit for their academic credential," said Dr. Randall Wells, Chief Academic Officer of the University of the Potomac.
"Earning credit for college-level learning acquired outside of the traditional classroom means more affordable degrees for the thousands of adults who are just starting their degrees, or who already have some college but still need to finish," said Pam Tate, President and CEO of CAEL. "More than 39 million adults in this country have some college, but no degrees. Many have achieved significant learning outside of the traditional college setting. Providing an academically sound pathway to recognition for their learning not only helps them accelerate degree completion, but significantly reduces student debt."
LearningCounts is administered by The Council of Adult and Experiential Learning (CAEL), a non-profit pioneer in adult education, committed to help people obtain the education and training required to attain meaningful, secure employment. LearningCounts has received grant money from Lumina Foundation, Kresge Foundation, and the Joyce Foundation, among others to initiate research and development of this innovative student resource.
For more information about Potomac, visit http://www.potomac.edu or call 888-380-1192.
For more information about PLA and Learning Portfolios, visit http://www.LearningCounts.org.
###
The Council for Adult and Experiential Learning (CAEL) is a national leader in the fields of adult learning and workforce development, providing colleges and universities, companies, labor organizations and state and local governments with the tools and strategies they need for creating practical, effective lifelong learning solutions. With a membership of over 600 colleges, universities, corporations, labor unions, associations, and individuals, CAEL is headquartered in Chicago and also maintains offices in Denver and Philadelphia.
University of the Potomac (formerly Potomac College) is a regionally-accredited school designed around the needs of working adults. With campuses in Virginia, Washington, DC and online, the college specializes in Associate's, Bachelor's and Master's Degree programs in high demand fields. The University of the Potomac curriculum is carefully adjusted to reflect current industry standards for each program, thereby minimizing the number of general education courses and enabling students to delve into their chosen area of study more quickly.
University of the Potomac is accredited by the Middle States Commission on Higher Education, 3624 Market Street, Philadelphia, PA 19104, (267) 284-5000.
For more information about our graduation rates, the median debt of students who completed the program, and other consumer important information, please visit our website at http://www.potomac.edu