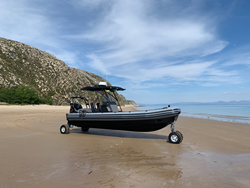 ANNAPOLIS, Md. (PRWEB) October 04, 2019
Ocean Craft Marine designs and manufactures boats for all mariners: military, professional and recreational. Each of these boats is engineered and customized to suit the exact specifications and conditions for which it is to be used. However, if there's one category of boats that qualifies as 'The Future of Boating', it is OCM's Amphibious range.
More than just boats with wheels, the amphibious range offers unparalleled mobility, accessibility and a world of convenience to military, professional and recreational mariners alike.
For those who are just looking for a relaxing day on the water, an amphibious boat offers the convenience of being able to drive straight from their beach homes into the sea, and the means to access more remote beaches with ease.
For professionals who use them in rescue operations, flood response and security details, they help save time and facilitate accessibility to high tide range areas and in very shallow waters. They offer first responders unique capabilities, particularly in rescue and flood response.
Every OCM Amphibious boat is powered by our BAS-80-4 Amphibious system, comprised of four independently motorized, steerable and retractable wheels. The 35 HP, control by wire engine of the amphibious system provides 'smart' stability of operation, while an oxygen sensor reduces emissions. Custom manufactured rims and marine coated wheels, with custom tires offer optimum load balancing , improved traction and high stability on land, while an electric braking system enhances safety. A fully marinized system, the wheels stay completely out of the water once the boat is deployed, for exceptional performance both on water and on land.
Whether you're a military, professional or recreational mariner, an amphibious boat offers several benefits over a conventional RHIB.
· Drive straight onto the beach and into the water with less time wasted to launch and return
· Reach areas within the high tidal range as well as shallow waters
· Access areas such as remote islands, that would otherwise be difficult to reach
· Get past obstacles, variable depths and debris with ease
Simply put, you can launch fast, accelerate operations and access areas that were considered inaccessible.
Any OCM boat can be built as an Amphibious boat. And as with any of our offerings, these boats can be customized from the hull up to accommodate special requirements. From basics such as seating and engine options, to more specialised requirements such as provision for diving tanks and stretchers, we configure and build our boats to meet your specifications.
NMMA, ABYC & CE certified, OCM also has the distinction of being one of the few Rigid Hull Inflatable Boats (RHIBs) manufacturers in the world with the USCG Sub-Chapter "T" certification. We also have complete control over the manufacturing process - from design to delivery. For our customers, this means greater flexibility in terms of customization, quicker response and faster delivery.
Fact Sheet -- vital specifications
1. Available in four sizes: 7.1M, 8.4M, 9.5M Beachlander and 9.8M
2. Suitable for military, professional and recreational applications
3. Equipped with OCM's advanced BAS-80-4 Amphibious system,which is comprised of 4 WD - independently motorized and fully retractable wheels
4. Deep-V fiberglass hull constructed in OCM's concave reverse chines design, delivers smoother, drier rides, increased lift for more overall speed, and agile cornering capabilities
5. Option of an aluminium V shaped or flat bottomed hull, for rescue operations.
6. Ability to launch fast, accelerate operations and access areas that were considered inaccessible
7. Customization options for engine capacity and placement, console, frame and covering, and color as well as add-ons such as provision for diving tanks and more
8. The BAS-80-4 Amphibious Technology System is available as an upgrade option for all OCM boats ranging from 5.1 meters to 12 meters and is available on both outboard and inboard powered boats.