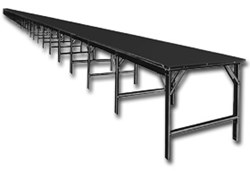 The Heavy Duty Production Table is a great product that is often overlooked by customers. Hopefully, by having this product as product of the day, customers will consider ordering one
Lincoln, Nebraska (PRWEB) August 08, 2013
It is time for A Plus Warehouse to introduce its product of the day. Every single day without failure, A Plus Warehouse enjoys mentioning a specific product. Customers easily over look these products. There are so many products at A Plus Warehouse that customers may be unaware that the company sells an item that they want. This is why the company has product of the day. The product of the day is a snapshot at the best products A Plus Warehouse has to offer. Today's product of the day is the Heavy Duty Production Table. According to Ed Stairman, president of A Plus Warehouse, "The Heavy Duty Production Table is a great product that is often overlooked by customers. Hopefully, by having this product as product of the day, customers will consider ordering one."
This product falls under the popular workbench line. A Plus Warehouse offers many different types of work benches including but not limited to industrial work benches, electronic work benches, and mobile carts. Work benches are needed by many companies. A Plus Warehouse is aware that every customer has different needs. The company takes pride in its great customer service. A Plus Warehouse sales people are always there to guide customers in choosing the right product. The company is aware that this a difficult task if done alone. With help from A Plus Warehouse, picking a workbench is easy as pie. Many customers might need a bench top. Choosing the correct bench top is extremely important. Each type has different capacities and features. It is best to talk to one of A Plus Warehouse's professional sales people.
As mentioned earlier, the product of the day is the Heavy Duty Production Table. This item is in stock for immediate delivery. This product is available in any length. A customer simply needs to determine the number of add on sections that they require. This item is most popular with sign companies and printers, yet it can fill other purposes as well. Basically, this item is great wherever there is a production line. A Plus Warehouse hopes that customers will consider purchasing this item. Customers should order their work benches today.
A Plus Warehouse is the operator of http://www.apluswhs.com and distributes materials handling and storage equipment nationwide and throughout Canada. The sales staff at A Plus Warehouse is available at 800-209-8798. A Plus Warehouse has been in constant operation since 1996.