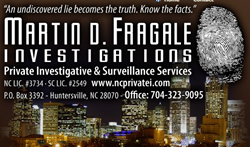 Martin D. Fragale Investigations Offering Workers Compensation Claim Investigation Services
Charlotte, North Carolina (PRWEB) January 25, 2014
Martin D. Fragale Investigations, the premier Charlotte private investigator for individuals and businesses in both North and South Carolina, is offering expanded investigative services for businesses with focused workers compensation claim investigations.
Fraudulent workers compensation claims have always existed but are becoming more and more prevalent in terms of common knowledge. Fraudulent workers compensation claims can happen to companies of all sizes and is not limited to private enterprise as civil organizations and public utilities are also prone to these occurrences. Regardless of the industry or the circumstance, fraudulent workers compensation claims are damaging both economically but also in terms of workforce moral. When workers compensation fraud is committed, the business owners pay financially and then they become concerned and suspicious of all claims regardless of their validity.
Martin D. Fragale Investigations have experienced a rise in the number of worker compensation claims that they have been asked to investigate. In all cases the employer relied on the honesty of the employee in question but began hearing and noticing things that led them to believe that fraud was being committed. That these companies chose to use Martin D. Fragale speaks to the respect and esteem that they are held in. The breadth of experience their staff brings to each investigation is what has set them apart from other investigative service providers. Their process combines traditional investigative techniques along with video and photographic surveillance to provide employer with a full dossier of information regarding the claim in question. The body of evidence they gather and document allows employers to determine if legal action is necessary. Additionally, if legal proceedings involve criminal or civil court, their investigators can provide expert witness testimony to support all of the evidence gathered.
With all of the economic issues that are challenging business owners, the last thing that any employer needs is to unknowingly take on the additional financial burden of paying workers compensation claims for fraudulent reasons. The team at Martin D. Fragale advises any employer to engage a professional investigator if they believe they may be victims of workers compensation fraud. This is especially true if legal action is considered not only because having all possible evidence is necessary for a successful court case but also because pursuing legal action when fraud is believed but not proven could lead to more legal troubles and financial expenditures.
Martin D. Fragale Investigations, a North Carolina-based private investigation practice, provide numerous personal and commercial investigative services to the North and South Carolina communities. Martin D. Fragale, founder of the company, graduated with a Criminal Justice Degree in 1994 and has 14 years of Private Investigative experience. Prior to founding the company in North Carolina, Martin was a co-owner and Sr. Investigator of a New York-based private investigation practice for 10 years. Among the areas that the company specializes in are background investigations, trial prep attorney services, matrimonial investigations, sports and recreational activities investigations, surveillance, criminal defense investigations, school district services, insurance claims investigations and other legal services. They can be reached on the web at http://www.ncprivatei.com , by phone at (716) 553-1898 or via e-mail at martin(at)ncprivatei(dot)com.