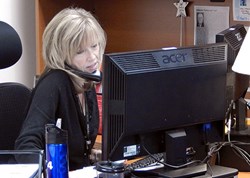 I always tell them to combine their previous work experience with whatever their new skill is going to be to repackage themselves to be employable.
Denver, CO (PRWEB) September 11, 2013
Navigating a fickle job market can be overwhelming, particularly to those who may not know all the tools available in attempting to improve their stock or simply rejoin the workforce.
Barbara Lindsay, coordinator of Career Services at CCA, one of the Colorado community colleges, suggested that the institution continues to get tangible results under the auspices of the federal Workforce Investment Act, in concert with periodic job fairs that bring potential internships, part-time and full-time opportunities right to students' doorsteps.
"More people should investigate it because even if they don't need 18 months of training, there are other components of the Workforce Investment Act that allows them to connect in intentional ways to the job market," Lindsay said.
At CCA, student participation -- due to a targeted informational campaign --in affiliated workforce programs has increased 70 percent in the last year, mainly due to WIA.
A study by Economic Modeling Systems, Inc., as recently as 2011 showed the tangible results of extra education within the college's market, too, with earnings increasing $13,800 to $52,800 for people earning an associate's degree at the career midpoint over those with solely a high school degree.
WIA, in particular, provides not just funding of education but a possible reinvention tool for those seeking a change. Participants can take classes for two terms, graduate with a certificate, and return to their employers better prepared for the tasks at hand, or be better positioned to locate a job if dealing with short- or long-term unemployment.
This conduit to a better work experience is applicable not only at Community College of Aurora, but is applicable to community colleges around the nation. Those who know how can use the government program to their advantage, while at the same time, helping fill jobs that are – and will be - necessary in the 21st century workforce.
"People are getting aware of the training dollars. They are doing a better job finding the resources available to them and we've done better letting them know that these types of programs are available for them," Lindsay said.
Those already employed with 'soft skills' can obtain a new set of skills to enhance marketability in a wide variety of areas, such as full-charge bookkeeping, administrative support within health care, or roles in the computer industry can strengthen their resumes within a year and have their college expenses absorbed by the WIA program.
Up to 18 months of tuition and fees related to self-improvement in growth fields are available to qualified applicants. Unemployed or underemployed employees can benefit by receiving the training necessary to get back on the payroll. One such example would be receiving STEM training, given a recent report that showed that those jobs should increase by 18 percent by 2018.
"I always tell them to combine their previous work experience with whatever their new skill is going to be to repackage themselves to be employable.
Community College of Aurora works in concert with workforce development centers in surrounding counties (Adams, Arapahoe/Douglas, Denver) to connect returning, or first-time students, to employment opportunities in their own community. The workforce center connects students to employers and a computerized job bank, while offering help on networking, resumes, cover letters and more.
"It's a win-win-win," Lindsay said. "It's good for the workforce centers, the employers that both we and the workforce centers work with, and the students."
Lindsay advised that even those currently employed "look constantly, connect regularly to people at all times that can help, and use every resource available to you, because even while you have a job, if you don't do that, it's harder to start from scratch."
Truth is, looking for employment can be a full-time job in itself.
"Connecting to work force centers, on campus to career centers, going on LinkedIn and making sure you have a profile that people will be engaged in. It's about connecting with people and resources."
###
About CCA
Community College of Aurora has campuses at CentreTech and Lowry in the greater Denver area. Equipped with the latest technologies, CCA allows students to study new and traditional programs, while also offering Colorado online courses and degrees. CCA's service community spans 325,000 people in a 350-square-mile area and CCA's student population reflects that diversity. The college provides lifelong educational opportunities, prepares the current and future workforce, and promotes excellence in teaching, learning and service.