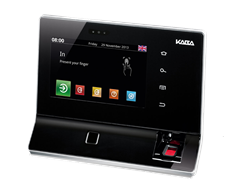 MIRAMAR, Florida (PRWEB) September 15, 2016
B-COMM® for Oracle HCM Cloud Time and Labor is the latest enterprise system in Kaba's expanding catalog of Oracle ERP data collection solutions. Built through the guidance and support of the Specialized Oracle Partner Network (OPN), Kaba's B-COMM solution offers Corporate Executives the assurances they require. Human Resource and Payroll departments will know their employees can interface with an intuitive, reliable, and scalable B-COMM solution designed for continuous time collection and accurate transmission of critical payroll data.
B-COMM is a time collection subsystem that seamlessly integrates Kaba time collection devices with multiple Oracle systems. As an Oracle Gold Partner since 1996, Kaba offers Oracle Validated Integration with Oracle PeopleSoft Time and Labor and Oracle E-Business Suite Time and Labor. B-COMM for Oracle HCM Cloud Time and Labor further demonstrates Kaba's deep knowledge and experience with Oracle products. Kaba is the global leader in time collection industry for the benefit of leading ERP systems. Kaba has over 1,800 customers in this market space.
The B-COMM solution connects Kaba's time clocks, mobile devices, web time clocks, and telephone IVR systems to Oracle based Time and Labor applications. These technologies offer customers the most efficient means of collecting accurate, positive pay time stamps for hourly, non-exempt employees.
For more details and a solution analysis by a B-COMM time collection solution expert, please visit Kaba at Oracle OpenWorld 2016, September 18-22 in San Francisco. Kaba's two exhibitor locations will be at Moscone West (booth 3412) and at the Oracle HCM Central (kiosk 17) in the Palace Hotel.
About Kaba Workforce Solutions
Kaba Workforce Solutions is a wholly-owned operating subsidiary of the publicly listed dorma+kaba Group (SWX: DOKA), a global provider of enterprise workforce management and access control solutions with a focus on time and attendance and employee self-service data collection. Clients include industry leaders in Manufacturing, Retail, Education, Finance, Government, Healthcare and more. For more information, visit http://www.kaba-benzing-usa.com
About Oracle PartnerNetwork
Oracle PartnerNetwork (OPN) Specialized is the latest version of Oracle's partner program that provides partners with tools to better develop, sell and implement Oracle solutions. OPN Specialized offers resources to train and support specialized knowledge of Oracle products and solutions and has evolved to recognize Oracle's growing product portfolio, partner base and business opportunity. The key to the latest enhancements to OPN is the ability for partners to differentiate through Specializations. Specializations are achieved through competency development, business results, expertise and proven success. To find out more visit http://www.oracle.com/partners
Trademarks
B-COMM is a registered trademark of Kaba GMBH and/or its affiliates.
Oracle is registered trademarks of Oracle and/or its affiliates.