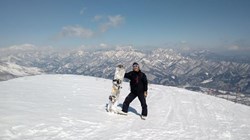 The demand for our foreign workers is growing as more tourists come to the country
Melbourne, Victoria (PRWEB) August 21, 2013
Japan's foreign visitor numbers have reached a record high for the first half of this year. With the country's assertive tourism initiative producing results, the foreign job placement company boobooSKI expect the upcoming winter season to bolster those figures further. The founder and Director of the business Mr. Adam Claydon-Platt explains his expectations, "Being notorious for having some of the best ski slopes in the world, Japan's approaching winter season will definitely add a whole lot more to those impressive numbers." He further describes that his company's "winter positions are the most popular for new applicants, as well as our existing staff working in Japan. With tourism spiking like it has already, and with the demand for foreign workers also increasing, we're anticipating a decent spike for this year's applications."
Over the last year, Japan's government has proactively worked on increasing foreign visitors to their country. With successful initiatives in place, an impressive 4.95 million visitors have already accounted for the first half of this year's numbers, which is up nearly 23% for the same time in 2012. The big challenge for the country now is to continue the upward trend.
With Japan being coveted as a world-class ski destination, Mr. Claydon-Platt predicts rising tourist numbers won't stop. What's more, he says they'll "swell even more on as the winter season approaches." His company boobooSKI, a resort job placement company for foreigners, experiences jumps in applications for winter work every year, despite the ebb and flow of the country's tourism trends.
Mr. Claydon-Platt comments about his forecast, "Seeing the great visitor numbers for the first half of this year bodes well for the second half." He adds that the winter season has long been a favourite amongst his staff working in Japan. "We always anticipate more interest for the ski season, but with Japan's holiday appeal hitting new highs, this year we're preparing for a major increase in staff applications to work at the winter resorts."
The company director explains the attraction to the colder weather is due to "the amazing skiing and snowboarding opportunities for staff when they're not working. The snowfall is great, with some of the best powder in the world, not to mention their ability to experience the Japanese culture like a local."
He goes on to say that his office team are already receiving ski resort applications "early bird applications are a smart way to go, because the best ski resort spots fill up very fast." Mr. Claydon-Platt continues, "working in Japan is an experience second-to-none for people truly interested in learning the language and experiencing all aspects of living, working, and socializing like a true resident."
With visitor numbers reaching new highs in Japan this year, the resort staff placement company boobooSKI is expecting a spike in application numbers for winter positions. The company director expects Japan's tourism to continue to grow and believes "the upcoming winter season will really add to the already impressive numbers." Working in Japan is a smooth process with boobooSKI; their team fully assist foreigners in their applications, as well as in formalities such as organizing airfare, visas, and insurance. Mr. Claydon-Platt makes a final remark about the increasing attraction to visit Japan, "The demand for our foreign workers is growing as more tourists come to the country. We recommend, to those wanting to work this ski season, to get their applications to us sooner rather than later." To view the company's ski resort positions click here, or to find out more about Japanese working-holidays visit: http://www.japaninternship.net.
About boobooSKI
boobooSKI have taken their passion for Japan to innovate working and studying abroad. They help young people from around the world secure paid work in the country's popular beach and ski hotels and resorts.
Their more recent Internship programs were created for the promotion of mutual understanding and friendship between Japan and other countries; as well as to encourage students of various degrees to improve their knowledge and skills by experiencing first-hand the internationally renowned Japanese work ethic, culture and approach to service. To learn more about boobooSKI, visit: http://www.boobooski.com/.