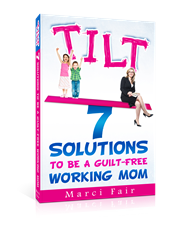 "Balance is Impossible; Memories are Better."Marci Fair
(PRWEB) March 12, 2014
Juggling work and family has never seemed more possible than in Marci Fair's parenting guide, "TILT- 7 Solutions to Be a Guilt-Free Working Mom," which was just released. The book has already been the recipient of the "30 Second Mom Loves This" award, and has helped impact the lives of over 1900 working moms so far. To create this relatable and insightful work, Fair drew upon her own experiences as a working mother of four, through the "TILT" of her life, work and motherhood. The book has helped women realize that they don't have to feel guilty for not being a perfect super mom and shares how they can make the choices that matter in their lives. In TILT, Fair teaches, "Balance is impossible; Memories are better." The book trailer shares some of her story.
Fair is supporting children in need by donating a portion of the proceeds of each book to Kares 4 Kids, a non-profit 501C3 organization she founded that gives to children in need, to support and strengthen families. Fair's goal is to help 10,000 moms through TILT, and in doing so, to raise $10,000 for Kares 4 Kids.
Angela Chee, TV host of "The Zen Mom," said, "'TILT' is more than a parenting book. It is a tribute to our journeys as women." Another reader, clinical psychologist, author and mother of six, Christina Hibbert, stated, "'TILT' helps us discover the things that matter most in our lives, and never let them go."
About the Author
Marci Fair and her husband have built several successful real estate businesses, including some ranked in the US by Real Trends. She is a mother of four children herself, and is passionate about empowering other mothers as they help their children reach for their goals and dreams, to continue to reach for their own. Her book "TILT" includes over 70 of her children's quotes, over 100 practical tips for busy moms and the thoughts of over 80 other mothers who share their mom-wisdom from their experiences.
Contact
Email- Marci(at)marcifair(dot)com
Phone- 678-775-2750
Visit http://www.marcifair.com for a one page media kit that includes contact details, photos, an author bio and more.