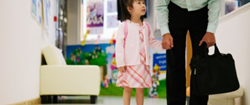 "As a working parent myself, I know that in this day and age it is achievable to be both a fantastic, involved parent and a driven, successful professional," said Sara Sutton Fell, Founder and CEO of FlexJobs.
Boulder, CO (PRWEB) October 15, 2014
According to a recent FlexJobs' survey, 89% of parents report 'needing' to work, but almost two out of three of those parents (64%) also 'want' to work, indicating that their careers contribute positively to their overall life satisfaction. According to the Bureau of Labor Statistics, of the nation's 80.4 million families, 80% had at least one employed member in 2013. Among them, 59% have two working parents, and in single parent families the percentage is even higher -- 81% for families led by fathers and 68% for those led by mothers.
While the work-life juggle is undeniably challenging, FlexJobs' survey also found that working parents are optimistic about balancing their dual responsibilities:

92% of the respondents believe they can simultaneously be both great employees and great parents.
6% are hopeful it can be done.
Only 2% don't think it's possible.
"As a working parent myself, I know that in this day and age it is achievable to be both a fantastic, involved parent and a driven, successful professional, and I'm glad that this sentiment is held by so many of my working parent peers," said Sara Sutton Fell, Founder and CEO of FlexJobs. "The next step is for all employers to take a hard look at the data on how work flexibility can affect their company's bottom line, because the benefits of flexible work options don't just benefit employees… they also benefit the companies. By understanding this, we can have a win-win situation that will both help working parents to successfully meet the demands of family and career and help employers to recruit and retain talented workers regardless of their family status."
Here is an overview of the working parents survey results:
Parents want work flexibility.
Working parents stated a strong preference for flexible work options, with 73% of those with school age children at home wanting job flexibility. In fact, 39% of respondents have turned down a promotion, not taken or have quit a job because of a lack of flexible work options.
Most parents want to work from home.
The most in-demand type of flexible work arrangement is 100% telecommuting (79%), but alternative or flexible schedule (47%), partial telecommuting (44%), part-time (45%), and freelance (39%) are also in demand.
Parents would volunteer more with flexible work options.
A promising 77% of respondents indicated that flexible work arrangements would increase their volunteerism at their children's schools or organized activities. 47% claimed they would be likely to start volunteering, with another 29% who already currently volunteer said they would be able to volunteer more.
Why working parents want flexible work:
And, for the third year in a row, family remains a top reason people seek flexible work (52%), behind the desire for work-life balance (74%) and tied with health/exercise. Time and cost savings, as well as a reduction in commuting stress, follow.
What/Why Parents Need to Know About Work Flexibility Free Webinar:
For parents who would like to learn more about flexible work options, there is a free webinar this Thursday, Oct. 16 from 2 pm ET to 3 pm ET hosted by the 1 Million for Work Flexibility initiative in celebration of its first anniversary. To learn more or to register, please visit 1 Million for Work Flexibility to find out more.
*Demographic breakdown of the 1500 respondents: Age: 79% between 30-59 years old; 9% between 20-29 years old; 10% between 60-69 years old; Education: 79% have a college degree, 29% of those being graduate degrees. 16% have some college but no degree, 4% have high school degree/GED; Career Level: 9% Entry, 59% Experienced, 22% Manager, 10% Executive.
To request additional information about this survey and its findings, please contact Kathy Gardner at kgardner@flexjobs.com.
About FlexJobs
FlexJobs is the leading online service for professionals seeking telecommuting, flexible schedule, part-time, and freelance jobs. With flexible job listings in over 100 career categories, and opportunities ranging from entry-level to executive, freelance to full-time, FlexJobs offers job-seekers a safe, easy, and efficient way to find professional and legitimate flexible job listings. Having helped over 900,000 people in their job searches, FlexJobs has been included in Forbes' Top 100 Websites for Your Career, Mashable's '7 Job Boards to Find Your Dream Job,' and is one of Working Mother's 'go-to' career sites for working moms. FlexJobs is also a proud partner in the 1 Million for Work Flexibility initiative, which seeks to unite people advocating for work flexibility.