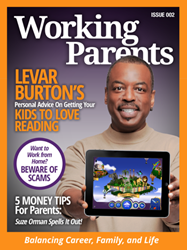 Working Parents Magazine offers practical, real world advice to balance career, family and life.
(PRWEB) March 25, 2014
Publisher Jeffrey Clark announced today the public launch of Working Parents Magazine. Debuting on Apple's iPad Newsstand, Working Parents is a monthly digital periodical that helps parents balance work, family and life. The inaugural issue is free and subscribers receive free trial periods.
The magazine brings together expert advice and insight for the common working parent on topics such as: career development, time management, relationships and support networks, food and nutrition, family finance, book reviews, interviews with parenting experts, health and consumer awareness.
The premiere issues feature in-depth interviews with financial guru Suze Orman, Reading Rainbow host LeVar Burton, teen parenting expert Debra Beck, author Katrina Alcorn (Maxed Out: American Moms on the Brink), and infant and toddler parenting expert Deborah Carlisle Solomon (Baby Knows Best).
The magazine was founded by husband and wife team Anahita Anvari-Clark and Jeffrey Clark after they struggled to find magazines dedicated to both the working mom and dad and addressed basic issues such as how to find affordable daycare. "We're excited to release the premier issue of Working Parents Magazine to meet the needs of today's busy professionals juggling family and work life," Clark said. "By offering this valuable content as a mobile magazine on iPad, we can help parents worldwide and build a true community."
Readers Matthew and Alison Lütz shared, "Working Parents Magazine is hands down the best resource that we've found which addresses all of the issues that we as working parents experience in our day to day lives. It offers great articles and information to solve common working parent challenges."
"With all the demands on your time, it can be very tough for working moms and dads to balance it all," Clark said. "Working Parents Magazine offers practical, real world advice to balance career, family and life."
Subscribers can download the magazine in the iTunes App Store and a press kit is available for reviewers at WorkingParentsMagazine.com.