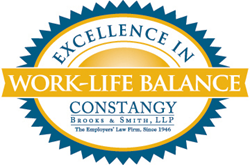 Businesses that effectively address and manage work-life balance issues with their workforce can increase employee productivity by 21 percent.
Atlanta, GA (PRWEB) June 09, 2014
In conjunction with continued technological advances to promote mobility and greater project efficiency, work-life balance remains a buzz worthy topic in U.S. workplace culture. Recent research findings by leading advisory company, Corporate Executive Board report that work-life balance continues to rank as one of the most important workplace attributes, second only to compensation. Work-life balance is such an important priority to employees that one in five workers surveyed in a Citrix Online study stated that they would be willing to relinquish 5 percent of their salary in order to have the flexibility to work offsite one to two days a week.
The benefits of work-life balance programs are not limited to employees however; employers are seeing meaningful impact in key employee relations performance indicators. Work-life balance programs, through applications such as flexible work arrangements, employee wellness programs, telecommuting and job-sharing, can help employees feel truly connected to their companies, fostering loyalty, mutual respect and a positive work environment.
According to a recent study by the Society for Human Resource Management (SHRM), 89 percent of HR professionals reported an increase in employee retention as a result of implementing such work-life balance initiatives as flexible work arrangements. Improved productivity is another benefit that employers can gain from work-life balance. In addition to its employee priority findings, Corporate Executive Board also reported businesses that effectively address and manage work-life balance issues with their workforce can increase employee productivity by 21 percent.
So that we may recognize companies that create and promote work environments conducive to work-life balance, Constangy, Brooks & Smith, LLP established a national award program in 2006 honoring outstanding work-life balance initiatives or programs either company-wide or inside corporate legal departments. Constangy's Excellence in Work-Life Balance Award is designed to honor the efforts of a company to achieve work-life balance through development and implementation of policies and programs. No matter how large or small the initiative or program—or the size of the employer—the award recognizes excellence in work-life balance in either overall efforts or in the application of one particular program, with an emphasis on measurable results.
Nominations may be made by human resources departments—of companies in an industry—on behalf of entire companies for company-wide work-life balance efforts, or by in-house counsel on behalf of in-house legal departments' work-life balance efforts. Nominations may be made for comprehensive programs that cover several work-life balance efforts, or for one initiative in particular that has had a substantial positive effect on the company and its employees.
The third-party judging panel includes Scott Behnson of Fairleigh Dickinson University; Cynthia Thomas Calvert of CT Calvert & Associates; Sara Sutton Fell of FlexJobs.com and Kate North of e-Work.com, Inc. Behnson, Chair of the Department of Management at Fairleigh Dickinson University is a national expert in work and family issues and a featured speaker at the recent White House Summit on Working Families. Calvert, Principal at CT Calvert & Associates is a lawyer, consultant, speaker, writer and researcher with over 25 years experience in the legal industry. North, VP of Global Development for e-Work.com, Inc. is a leader in interactive, e-learning designed to prepare employers for mobility and the evolving workplace. Fell, CEO and Founder of FlexJobs, is a leading advocate in the flexible and telecommuting employment industry, and has been a featured guest on several media outlets including CNN, BusinessWeek and Forbes.
The winner will receive a crystal trophy and a $1,000 donation in the company's name to the charity of its choice. Applications are due September 1, 2014.
To nominate your work-life balance initiative or program, please visit http://www.constangy.com/balance-awards.html. For more information, contact Britt Swanson at bswanson(at)constangy.com or at 404-230-6722.
About Constangy, Brooks & Smith, LLP:
Constangy, Brooks & Smith, LLP has counseled employers on labor and employment law matters, exclusively, since 1946. A "Go To" Law Firm in Corporate Counsel and Fortune Magazine, it represents Fortune 500 corporations and small companies across the country. Its attorneys are consistently rated as top lawyers in their practice areas by sources such as Chambers USA, Martindale-Hubbell, and Top One Hundred Labor Attorneys in the United States, and the firm is ranked as a Tier 1 firm by the U.S. News & World Report/Best Lawyers Best Law Firms survey. More than 140 lawyers partner with clients to provide cost-effective legal services and sound preventive advice to enhance the employer-employee relationship. Offices are located in Alabama, California, Florida, Georgia, Illinois, Massachusetts, Missouri, New Jersey, North Carolina, South Carolina, Tennessee, Texas, Virginia and Wisconsin. For more information, visit http://www.constangy.com, or download our app for iPhone/iPad.