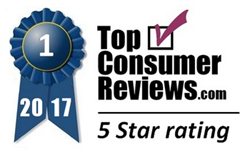 With a focus on High Intensity Interval Training (HIIT), TurboFire will have you working hard and having fun.
Overland Park, KS (PRWEB) January 25, 2017
TopConsumerReviews.com recently gave a best-in-class 5 star rating to TurboFire, a leader among Workout Programs available for purchase online.
Everyone agrees that exercise is a key component to overall health. Whether one's goal is to lose weight, improve cardiovascular ability, or reduce stress, the right workout program can make the difference between success and failure. However, getting to the gym isn't always a possibility, and many people feel more comfortable working out in the privacy of their own homes. Workout programs offer fitness routines any time of day or night, through a DVD player, a laptop, or other Internet-connected device.
"With a focus on High Intensity Interval Training (HIIT), TurboFire will have you working hard and having fun," stated Brian Dolezal of TopConsumerReviews.com, LLC. "Created by well-known fitness expert Chalene Johnson, TurboFire is a solid addition to the Beachbody group of exercise products. Although the overall level of TurboFire is intense, it starts slow for beginners with 'New to Class' lessons that explain each segment's workout movements. The program is structured as three one-month phases, helping exercisers improve their strength and cardio fitness over time. Customers will also appreciate a generous return policy: the program can be returned within 90 days for a full refund of the purchase price, for any reason. Because we think most customers will have a great fitness experience while using the TurboFire workout program, we gladly award TurboFire our top ranking in 2017."
To find out more about TurboFire and other Workout Programs, including reviews and comparison rankings, please visit the Workout Programs category of TopConsumerReviews.com at http://www.topconsumerreviews.com/workout-programs/.
About TurboFire
TurboFire is part of the Beachbody brand, a worldwide leader in health and fitness headquartered in Santa Monica, California. Founded in 1998, Beachbody's formula of world-class fitness, nutrition, motivation and support has proven again and again to deliver results for its customers. The Beachbody name has come to define the power of putting a healthy lifestyle within everyone's reach. Beachbody products can be purchased on its websites, and via its more than 450,000 strong Team Beachbody Coach network of independent distributors
About TopConsumerReviews.com
TopConsumerReviews.com, LLC is a leading provider of independent reviews and rankings of hundreds of consumer products and services. From Workout Programs to Elliptical Machines and Treadmills, TopConsumerReviews.com delivers in-depth product evaluations in order to make purchasing decisions easier.