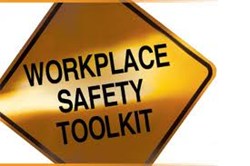 Individuals should feel safe at work. By following the experts advice at AlarmSystemReport.com people can feel safe and ensure others safety easily.
Oklahoma City, Oklahoma (PRWEB) August 01, 2013
Workplace safety and security are two concerns that are of the utmost importance for both employees and employers. There are a number of hazards, from the potential of injuries, to security concerns, that should be addressed within the workplace.
The security and safety professionals at AlarmSystemReport.com, a site that provides alarm system reviews of top home alarm companies, created a list of tips to help maintain a safer and more secure workplace and prevent injuries, accidents and security breaches. AlarmSystemReport.com provides not only reviews, but also security system discounts, making it a leading resource for consumers.
1. Take measures to protect all important records, including financial information, as well as records containing client and employee information.
2. Employers and employees should always be familiar with the individuals in a workplace, in order to more easily identify the presence of people who shouldn't be there.
3. Always turn off electrical devices when leaving a work space.
4. Immediately report to a supervisor if a coworker is seen exhibiting signs of dangerous, threatening or reckless behavior.
5. Never share passwords, codes or information needed for building access with anyone other than authorized personnel.
6. As an employer, take on the responsibility of creating plans to put in place in case of emergency or disaster. Ensure that all employees and everyone on the premises is fully aware of the plan—this includes new employees.
7. Always keep supplies on hand in case of emergency. Just as homeowners create emergency stockpiles, so should business owners. This can include everything from First Aid equipment to flashlights.
8. Encourage all employees to regularly wash and sanitize hands to discourage the spread of germs and disease.
9. If there is ever a spill with a substance that can't be identified, an employee should report the spill to a supervisor and avoid touching the substance.
10. Keep an emergency contact list readily available and distribute this list to employees—contacts should employee local emergency officials, and if necessary, hazardous wastes facilities.
11. Perform preventative maintenance on all electrical equipment to avoid the potential for fires.
12. A place of business typically requires the installation of a top quality alarm system. The password should only be provided to the individuals that absolutely need it, and it should be frequently changed, especially when an employee leaves the company.
13. Install surveillance equipment in areas where financial transactions take place, as well as at entrances and exits to the building. It's also advisable to install cameras in garages, parking areas, stairwells and in hallways.
About AlarmSystemReport.com
AlarmSystemReport.com is an independent, third party provider of information about the alarm system industry, including alarm system tips. The site also provides discounts and coupons for top alarm companies, including Protect America coupons.