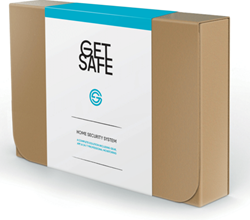 Concord, CA (PRWEB) May 24, 2016
GetSafe Home Security (https://GetSafe.com) today announced that it has earned the "Works With Nest" certification from Nest Labs, Inc. (https://Nest.com). The certification means that GetSafe Home Security is one of the growing number of companies that are compatible with Nest products. GetSafe's Starter Kit is now listed on the Works With Nest website: https://workswith.nest.com.
"We're thrilled to earn our Nest certification," says Kevin Magna, General Manager of GetSafe. "Nest Labs is a technology leader that's setting the standard for home automation."
The "Works With Nest" certification means that GetSafe works seamlessly with the Nest products. According to the Nest website, "When products work with Nest, you don't have to tell them how to connect. Or what to do. They just work."
GetSafe Home Security works with both the Nest Learning Thermostat and the Nest App. GetSafe is one of only seven home alarm systems to earn the "Works With Nest" certification.
The Nest Learning Thermostat helps save energy by learning the daily routines of a household and making appropriate adjustments.
Compatibility with Nest is part of the GetSafe's goal to offer customers greater freedom.
"We believe in being an open system. Many home security systems try to lock you into their system," says Alan Wu, Marketing Manager for GetSafe. "Their products only works with their hardware, which makes it hard to switch if you aren't happy."
Wu says that these companies take the same approach to their customer contracts.
"Security companies like ADT and Vivint expect you to sign a three to five year contact," he says. "We're a no-contract company, so you can leave at any time."
Wu says not locking the customer into a contract or a set of hardware motivates his team to do better.
"If you offer good service, customers won't want to leave," he says.
To learn more about GetSafe's motion detector camera, visit https://getsafe.com/works-with-nest/.
About GetSafe Home Security
Founded by industry veterans with over 30 years of combined experience, GetSafe offers a fresh take on home security. The company offers no-contract, DIY alarm systems that fit today's lifestyles. Designed for a mobile-friendly world, the system is controlled through a smartphone. GetSafe is simple to install, and easy to customize, which means customers can take it with them when they move, and add to the system as their home grows.
Learn more by visiting GetSafe.com or by calling (888) 799-6255.