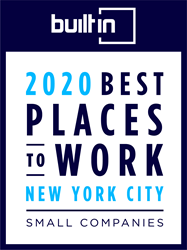 I'm elated we've received this recognition for that focus
NEW YORK (PRWEB) January 28, 2020
WorkStride, a leading provider of channel incentives and employee recognition solutions, announced that it has been named one of Built In's 50 Best Small Companies to Work for in New York City for 2020. This marks the first year WorkStride is recognized for this particular honor.
The 2020 Best Small Companies to Work for in NYC is made up of 50 companies. The annual list is created by Built In NYC. This rapidly growing online community offers tech news, trends, networking, and jobs over a shared passion for technology, across multiple cities, throughout the United States. Their mission is to "reinvent how talented people find their professional purpose, companies tell their stories, and communities connect over a shared passion for tech". Interested parties can read more about winners here.
"Our employees are vital to our organizational success," said Tom Silk, CEO of WorkStride in response to the award. "As such, we strive to create and foster an exemplary culture at WorkStride that engages, excites, motivates, and inspires our employees every day at work. I'm elated we've received this recognition for that focus."
Built in NYC's algorithm weighs compensation and workplace benefits to obtain their scores. Benefits like a flexible work environment, diversity in the workplace, financial planning and stability, and professional and social impact are all weighed accordingly to determine an organization's score. Both compensation and benefits are weighted at 50% and allotted accordingly.
About WorkStride
WorkStride provides clients configurable reward, recognition, and incentive programs, through powerful software, strategic program design, and modern rewards experiences. Our mission is to provide the most effective and results-driven solutions, centered around client needs and positive behaviors that produce results and growth. The company represents clients of various sizes, including a number of Fortune 500 organizations, from a wide range of industries. WorkStride is based in New York City and is backed by The Riverside Company, a global private equity firm. Learn more about WorkStride at http://www.workstride.com.