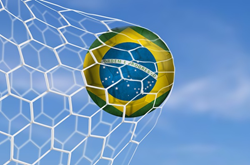 The best teams know it's not about constantly trying to score with brut force. Instead, what counts is a 'unified' team plan so that when you aim... you don't miss.
Boston, MA (PRWEB) July 15, 2014
Today, following a hard-fought month of competition, team Germany arrived home in Berlin with their fourth ever World Cup victory—undoubtedly the reward of meticulous preparation, planning and performance.
I. IT TAKES PRECISION
Throughout the World Cup battle, we saw matches characterized by long, meticulous stretches of play, strategic passes and intense focus culminating in a goal. The best teams know it's not about constantly trying to score through brut force. Instead, what counts is a 'unified' team plan and execution with discipline and skill, so that when you aim, you don't miss.
Similarly, developing a successful sales team unified game plan is a science—not a guessing game.
Unified sales planning is the foundational process that gives context to CRM in the form of visible, measurable objectives for everything you and your team works on. That context also empowers managers to execute sales plans and communicate clearly with teams, enabling a talented sales force to work at their greatest capacity.
To achieve big wins, it's critical to get the small daily tasks right.
II. IT TAKES A PLAYBOOK
Put 11 incredible athletes on the field and without structure, that power and potential will fail almost every time.
To be most effective, sales organizations and teams cannot depend on star players' intuition and 'common sense' to drive the process.
If your sales department's planning relies on: email exchanges, 'discovery' phone calls and 'meetings', then records these facts', in static sales plans using Word, PowerPoint, Excel and CRM system reports that are not linked to a live sales plan connected to your Account and Opportunity records, you're operating far below full potential.
Without a unified sales planning system to provide context, CRM systems are random collections of disconnected data records that say nothing about where you are—or where you're headed. When working toward a goal or destination, it's important for teams to be of one accord so that the same path and all turns, stops and readjustments are made in unison.
III. IT TAKES VISIBILITY
In battle, visibility is everything.
It's imperative to know where each individual member of your team stands to know where your organization, as a whole, is going.
Similarly, sales organizations need a systematic means to ascertain where they are, where they're going, and how to get there as efficiently as possible.
The right technology makes this possible.
A unified sales planning and tracking system integrated within the CRM infrastructure can precisely and predictably plot the course to revenue success. Good maps (sales plans) and good measuring instruments let management and selling teams know where they're going, what's expected of them and where they stand.
IV. IT TAKES ADAPTABILITY
As seen in the stunning comeback of the Netherlands over Mexico in a 2014 World Cup faceoff, when missing the mark, to catch up, it may be necessary to re-strategize.
When a team's coaches have paid attention to every play in the game and are armed with up-to-the-minute details and statistics, they're in a far better position to empower their team to make a comeback.
It's about real-time intelligence.
Static sales plans are not feasible because they are not realistic.
In today's fast-paced business environment, it's critical to be able to—and empowered to—adapt to daily changes in the marketplace. To be empowered demands real-time data and insight.
The visibility offered by unified sales planning makes it possible to provide corrective coaching in real-time and realign sales teams based on current circumstances.
Stop examining what went wrong with your quarter and start planning for success.
About Longitude Unified Sales Planning:
Longitude Unified Sales Planning™ by Precision Sales Engineering is a 'native' Salesforce application built to work seamlessly with all standard and custom Salesforce functions. Longitude Unified Sales Planning™ empowers businesses to create 'living' actionable sales plans for any role in your extended sales organization. Longitude™ eliminates disconnected, 'dead document' sales plans.
Longitude Unified Sales Planning™ includes: ready-to-use (model) Sales Management Plans & objectives; ready-to-use (model) Sales Rep Plans & account portfolios; ready-to-use (model) Account Plans & strategies; and all standard Salesforce functions including Accounts, Leads, Opportunities, and more.
Longitude Unified Sales Planning™ - powered by Salesforce - eliminates the 'risk' of sales rep's floating in the field without a clear sales plan linked to their account base for daily reference, guidance and accountability. Now, sales plans and sales execution are unified in a single system.