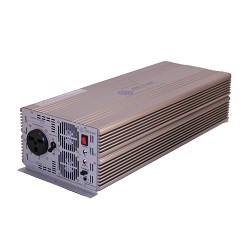 We have helped design countless power systems to run off-grid pumps for wells, emergency backup power and many other applications.
Tulare, CA (PRWEB) February 10, 2014
The World Ag Expo is set to begin February 11th 2014. There will be businesses and equipment suppliers from around the globe participating in this year's expo. Amongst the enormous list of suppliers will be Theinverterstore.com, a one stop shop for dc to ac power inverters and off-grid solar kits.
The inverter and off-grid power experts from TheInverterStore.com will be onsite to answer any questions that the 100,000 plus attendees may have.
At the expo The Inverter Store staff will be displaying a wide variety of power inverters and many other products offered on their website. The plan is to reach out to farmers and ranchers from around the globe to showcase their complete line of dc to ac inverters and solar panels.
"It has been almost a decade since we sold our first inverter, in that time we have assisted farmers and ranchers with many off-grid power systems," says Michael Shepherd with theinverterstore.com. "We have helped design countless power systems to run off-grid pumps for wells, emergency backup power and many other applications."
With the rising cost of fuel, farmers and ranchers are always looking for ways to reduce their fuel use. An inverter allows them to eliminate the cost and maintenance of running a generator. With the addition of solar panels to an off-grid inverter system they also can deliver power to a remote site daily, saving time and money.
One of the most popular inverters used in these types of applications would be the 7000 watt industrial grade power inverter, which is manufactured by AIMS Power. This inverter is capable of delivering 7000 watts of 240Vac when connected to a 24 or 48 volt battery bank, depending on which model is selected. This is just one example of the resources available from theinverterstore.com for farmers and ranchers.
About The Inverter Store
Doing our part to help reduce environmental footprints worldwide by selling DC to AC power inverters, inverter chargers, solar panels, solar charge controllers (MPPT & PWM), batteries, cables, transfer switches, fuse kits, & power accessories — everything needed to create & sustain a mobile and/or off-grid power system. The Inverter Store prides itself on customer service, treating every customer with the utmost respect & courtesy, because creating a power system can be a hefty task. A big point of emphasis for The Inverter Store is commitment to technical support, whether that means providing solutions to problems for current or potential customers. TheInverterStore.com has opened all platforms of communication possible to ensure that it's the most accessible company on the web when it comes to power inverter information. Facebook.com/InverterStore,Twitter.com/InverterStore & Google+ have all proved to be viable resources for our customers. The Inverter Store Blog contributes to the conversation as well. Inverters or inverter chargers transform direct current (DC) power, like the kind produced by batteries, into alternating current (AC) electricity that can be used to power a wide variety of appliances, tools and/or machinery from anywhere on Earth.