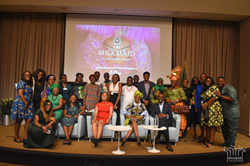 "As a Nigerian in the diaspora, it is my duty to discuss the realities happening back home for women and girls. These are our stories, and we must tell them," said Dr Seun Sowemimo, Executive Producer of the Milkmaid
WASHINGTON (PRWEB) October 03, 2019
The World Bank invited "The Milkmaid" team to privately screen the film as a part of their Nigerian Heritage Day for Nigerian Independence Day on October 1. The event drew nearly 200 policymakers, entrepreneurs, artists and World Bank employees; provoking emotion and inspiring action to tackle issues of gender based violence and insurgency.
Filmmaker Desmond Ovbiagele and Danono Media officially released the trailer for their full-length film, "The Milkmaid" in August of this year. The film sheds light on the issues faced by women caught in the upheaval of militant insurgency in rural Sub-Saharan Africa. Since the release of the trailer, the film has garnered much interest from the general public, leaders, and government agencies alike.Ovbiagele partnered with members of the Nigerian diaspora, including New Jersey based surgeon Dr. Oluseun Sowemimo, the film's executive producer.
Attendees were captivated by the powerful story line and beautiful cinematography. But most importantly, it inspired everyone to reflect seriously on the issues plaguing the continent. Editi Effiong, entrepreneur and filmmaker, tweeted "Heavy stuff, no one has moved a muscle since it started...The movie just ended and no one has a word."
At the World Bank, Dr Sowemimo spoke on the panel titled, "Women Empowerment and Bridging the Gender Gap in Nigeria", as the only male invited to speak on the challenges around gender inequality in Nigeria. "As a Nigerian in the diaspora, it is my duty to discuss the realities happening back home for women and girls. These are our stories, and we must tell them," said Dr Sowemimo.
"The Milkmaid" aims to highlight the United Nations' Sustainable Development Agenda through six key Sustainable Development Goals, with a defined focus on Goal 5, 'Gender Equality'. A high level screening is planned to take place at the United Nations October 30 surrounding the UN Security Council open debate on Women, Peace, and Security.
The trailer for the film can be viewed on "The Milkmaid" website. Follow "The Milkmaid" on Twitter, Instagram and Facebook for updates on future screenings at the United Nations, international film festivals, and other high-level events.
About "The Milkmaid":
This movie follows the journey of one sister who is desperate to find the other, willing to risk it all at the hand of the very insurgents responsible for their traumatic turn of events.
About the Filmmaker:
From the director who brought you Render to Caesar (Best Screenplay at the Nollywood movie awards and Best of Nollywood awards, Official Selection for main competition at FESPACO 2015), Desmond Ovbiagele makes his return to the big screen with "The Milkmaid", the second feature film he has written, produced, and directed.