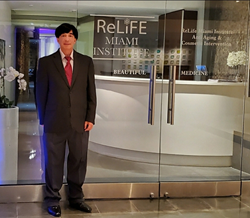 We conduct a 360-degree patient-centric evaluation and create a treatment plan with a dream team comprised of medical, nutritional, and wellness experts.
LOS ANGELES (PRWEB) October 24, 2019
ReLife Miami Institute™, which offers the latest in stem cell therapy and regenerative medicine through its ReLife Stem Cell Institute℠ as well as neurosurgical, orthopedic and pain management services, is now under the leadership of Steven Gelbard, MD a physician licensed in the state of Florida and board certified by the American Board of Hospital Physicians.
Dr. Gelbard is a leading neurosurgeon who has been practicing medicine in South Florida for over 20 years. He specializes in treating disorders of the brain, including bleeding in the brain, head and spinal trauma, neurological tumors, spinal disorders, and infections of the brain.
"I perform a number of procedures, including microsurgery, laser surgery, lumbar laminectomy, cervical laminectomy, evaluation and treatment of injuries to the brain and spine surgery for trauma to the brain and spine, reconstructive spinal surgery … as well as many other surgical procedures. We conduct a 360-degree patient-centric evaluation and create a treatment plan with a dream team comprised of medical, nutritional, and wellness experts." —said Dr. Gelbard.
He received his medical degree from Tufts University School of Medicine in Boston and completed a surgical internship at New York University. Dr. Gelbard then graduated from the University of Vermont Neurosurgical Residency Program. Subsequently, he received additional training in neurosurgery and neurology at Brown University and Harvard University.
Dr. Gelbard has been granted several US patents for surgical instruments and has authored many publications in medical journals, including the Journal of Neurosurgery. Since 1991, Dr. Gelbard has operated a very successful private practice in a neurosurgery surgical center.
Circularity Healthcare, LLC, provides unique and advanced products and services for both small and large medical clinics and hospitals, helping them to structure financial transactions and obtain financing at very competitive terms in collaboration with its financing partners.
"We believe people should have access to a single medical device that solves a majority of their short- and long-term health issues quickly and without pain. D'OXYVA does that and much more when combined with stem cells and many other modalities. I am honored Dr. Gelbard's ReLife selected our company, Circularity to manage and grow the new Miami Institute with industry-leading solutions that significantly improve chances of funding at terms that are difficult to beat by other market players." —commented Norbert Kiss, President and CEO of Circularity.
"Circularity's mission is giving people opportunities to interact with our brand, which definitely impacts customer acquisition rates positively. We care and that shows. As a registered nurse myself, my team's first goal is to help patients." —Jennifer Boadilla-Pelaez, Circularity's Senior Sales and Marketing Manager and Creative Director supporting Relife's marketing and public relations campaigns.
About ReLife Miami Institute
ReLife Miami Institute, LLC™ offers the latest in stem cell therapy and regenerative medicine through its ReLife Stem Cell Institute℠. It continues the long and successful history of the world-famous institute in Miami, offering plastic and reconstructive surgery, cosmetic products, IV therapy, dental surgery, sexual wellness, hair restoration, hormone replacement, anti-aging treatments and wellness counseling. ReLife Miami Institute is located inside the 5-star Four Seasons Miami hotel in Miami, Florida.
About Circularity Healthcare, LLC
Circularity Healthcare, LLC, located in Los Angeles, CA is a private biotech and medtech products and services company that designs, makes, markets, sells, distributes and licenses its own patented and patent pending technologies, such as its flagship non-invasive deoxyhemoglobin vasodilator product line, D'OXYVA®. One of the main mechanisms underlying D'OXYVA's science received the Nobel Prize for Medicine in 2019. Circularity enters into exclusive agreements with manufacturers to launch products and with large and small clinics and hospitals in order to help them enhance their profits and credit profiles with a wide variety of advanced products and services. In addition, Circularity Healthcare assists in the financing of equipment, working capital and also patient financing at industry-leading terms and speed.
For more information, please visit http://www.circularityhealthcare.com or http://doxyva.com or doctors (Rx only) visit http://wound.doxyva.com and send your general inquiries via the Contact Us page. For specific inquiries contact Circularity Customer Care at info(at)doxyva(dot)com info(at)circularityhealthcare(dot)com or by phone toll free at 1-855-5DOXYVA or at 1-626-240-0956.
Forward-Looking Information
This press release may contain forward-looking information. This includes, or may be based upon, estimates, forecasts and statements as to management's expectations with respect to, among other things, the quality of the products of Circularity Healthcare, LLC, its resources, progress in development, demand, and market outlook for non-invasive transdermal delivery medical devices. Forward-looking information is based on the opinions and estimates of management at the date the information is given and is subject to a variety of risks and uncertainties that could cause actual events or results to differ materially from those initially projected. These factors include the inherent risks involved in the launch of a new medical device, innovation and market acceptance uncertainties, fluctuating components and other advanced material prices, new federal or state governmental regulations, the possibility of project cost overruns or unanticipated costs and expenses, uncertainties relating to the availability and costs of financing needed in the future and other factors. The forward-looking information contained herein is given as of the date hereof and Circularity Healthcare, LLC assumes no responsibility to update or revise such information to reflect new events or circumstances, except as required by law. Circularity Healthcare, LLC makes no representations or warranties as to the accuracy or completeness of this press release and shall have no liability for any representations (expressed or implied) for any statement made herein, or for any omission from this press release.