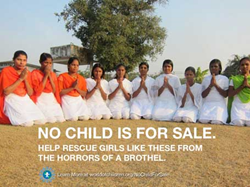 A gift of $50 is enough to rescue a girl from forced prostitution in India.
(PRWEB) September 30, 2014
World of Children Award has announced a new campaign to rescue children from the horrors of child trafficking and forced prostitution. The initiative sheds light on a prevalent but often overlooked issue, and seeks to raise funds and awareness to end the injustice inflicted upon over 1.2 million children every year.
Since 1998, World of Children Award has funded some of the world's leading anti-trafficking programs that ensure victims are safe, healthy, and have a voice to protect their freedom. World of Children Award Honorees work tirelessly to rescue and rehabilitate victims of child trafficking, some even risking their own lives for the sake of a child. In addition, Honorees advocate to educate the public and ensure that children enduring such atrocities get their voices heard.
As part of its campaign, World of Children Award is encouraging the public to volunteer, spread awareness, or donate to protect the rights to happiness, well-being, and freedom that every child is entitled to. Funds raised will directly support the work of 2013 Humanitarian Award Honoree Triveni Acharya, who co-founded the nonprofit Rescue Foundation. The organization has rescued over 4,000 victims of child trafficking in India and has provided them with healthcare, legal aid, counseling, nutrition and vocational training. Funds raised from this campaign will help Acharya rescue 50 more girls from brothels in India.
More information, photos and real rescue stories are now detailed on World of Children Award's website. Visit http://www.worldofchildren.org/nochildforsale to get involved and help save the lives of children today.
About World of Children Award
World of Children® Award improves the lives of vulnerable children by funding and elevating the most effective changemakers for children worldwide. Since 1998, World of Children Award has granted more than $6 million in cash grants and program support to 100 humanitarian leaders who are the driving force behind programs serving children worldwide. The organization's exhaustive research and vetting of individuals has been hailed by leading philanthropic organizations. The media often refers to World of Children Award as the Nobel Prize for child advocacy.
World of Children Award has been featured on The New York Times, The Huffington Post, People, Town & Country, and Harper's Bazaar. World of Children Award Honorees have also been featured by The New York Times, CNN, The Ellen DeGeneres Show, Fast Company Magazine, People, Glamour, TEEN Vogue, TIME for Kids, USA Today and the Christian Science Monitor, among several other national and international media.
Most recently, The Huffington Post named World of Children Award's Co-Founders, Harry Leibowitz and Kay Isaacson-Leibowitz, one of the United States' most inspiring "power couples" for their lifetime commitment to improving the lives of vulnerable children around the world.