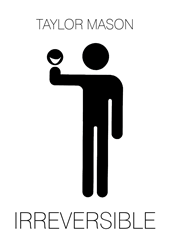 "Between colorful anecdotes, lessons gleaned from the best, and the hazards of traveling with puppets–an act ripe for jokes when they're mistaken for bodies–a more serious theme emerges: that of humility and keeping perspective even while hustling." - Clarion Review
BEACH HAVEN, N.J. (PRWEB) June 25, 2019
Comedian, musician and world-class ventriloquist, Taylor Mason, whose recent comedy special "Hysterical Perspective" on the Dry Bar Comedy online series has over 1.5 million views combined, shares his recollection of life as a ventriloquist from the moment he discovered the art, to performing with some of today's biggest comedic stars, to winning the 1991 Star Search comedy competition. In his new book "Irreversible" Mason hilariously takes readers on his journey to where he is today while giving insight into standup comedy, ventriloquism and working in the entertainment industry.
Mason's career spans across a time when ventriloquism was considered antiquated to when it became an in-demand form of entertainment enjoying mainstream appeal. During his time with the famous Chicago-based improv group The Second City in the mid-1980s, he worked alongside comedic greats such as Dan Castellaneta, Julia Louis-Dreyfus and Al Franken. He went on to a career as a comedic ventriloquist appearing on and winning variety competition shows, performing at every major comedy club, having over a thousand television appearances including Showtime comedy specials and more.
He wrote "Irreversible" to shine a positive light on ventriloquism and the skill, effort and dedication that goes into perfecting the art and as a more personal follow up to his popular guidebook "The Complete Idiots Guide to Ventriloquism."
"If one wants something badly enough, even something as gauche as ventriloquism once was, their commitment needs to be focused, intense and irreversible," said Mason.
"Between colorful anecdotes, lessons gleaned from the best, and the hazards of traveling with puppets–an act ripe for jokes when they're mistaken for bodies–a more serious theme emerges: that of humility and keeping perspective even while hustling," Clarion Review wrote about the book.
Readers will enjoy Mason's hilarious, laugh-out-loud prose while being reminded of the value that comes from dedication and perseverance when following your dreams. To learn more please visit http://www.taylormason.com.
"Irreversible"
By Taylor Mason
ISBN: 9781984569653 (sc); 9781984569660 (hc); 9781984569646 (e)
Available through Amazon, Barnes & Noble and Xlibris
About the author
Taylor Mason is a comedian, a musician, and a world-class ventriloquist who has been making audiences laugh around the world since 1983. He boasts more than one thousand television appearances, numerous accolades, a previous television show, two published books and countless performances at top comedy clubs and arenas in every major U.S. city. He can currently be seen performing live shows as well as on the popular Dry Bar Comedy YouTube channel.
For Interview & Review Copy requests contact:
LAVIDGE
Lauren Dickerson
ldickerson(at)lavidge.com, 480-998-2600x601
General Inquiries contact:
Grace Bywater
gbywater(at)lavidge.com, 480-998-2600x534