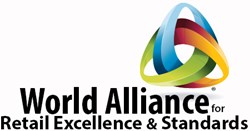 Accreditation allows World Alliance for Retail Excellence & Standards to offer the first and only program of its kind that validates a retail service company's management system while protecting the customers' brand.
Denver, CO (PRWEB) February 19, 2014
World Alliance for Retail Excellence & Standards, an organization that unites Retail Service Providers, Manufacturers, Retailers and Support Service members in a trusted global association marketplace, today announced a major milestone in the organization's initiatives to create system-wide improvements for the retail services industry through its Gold Standard Certification Program.
On January 22, 2014, World Alliance for Retail Excellence & Standards was accredited in accordance with the internationally recognized and generally accepted benchmark ISO/IEC 17021:2011. This accreditation process began in the fall of 2012 and was overseen by The GlobalNet Oversight Board Accreditation – Recognition Platform (GOB), a public trust chartered for the protection of communities and consumers, and to promote, encourage and participate in product and service initiatives from America.
Executive Director, Tom Caddell, adds, "A Certification program has been a goal of this association for many years. It is exciting to bring Certification to fruition, through our ISO/IEC 17021:2011 Accreditation, after more than 15 months of research, committee meetings, and Board assessments, we have now launched a totally unbiased, validated Certification process that is solid and brings the retail industry a clear and transparent process in providing the best of In-Store retailer services regardless of the channel."
Accreditation, such as the World Alliances', is granted to legal entities who have demonstrated they operate competently, objectively and impartially in a manner consistent with the Charter of the GlobalNet Oversight Board (GOB), applicable laws and regulations and act accordingly to protect communities and consumers by ensuring reliable activities that impact commerce of goods, services, food, health, security, safety, protection of people, communities and the environment with ethical integrity.
With receipt of Accreditation approval, World Alliance for Retail Excellence & Standards now has the first and only program of its kind developed specifically for the retail service industry which provides validation of management systems while simultaneously delivering a 'no cost' solution to manufacturers and retailers looking to protect their brand, minimize risk and deliver a positive customer experience.
"The Standards" of Gold Standard Certification apply to member organizations in their entirety, rather than to a specific individual, process or product and without respect to the size of the organization. The criteria was designed to both validate and identify opportunities for improving the value of a company's services, while providing a level of assurance to both upstream and downstream consumers, and/or end-users, that the products and services delivered by a Gold Certified company comply with the published standards and criteria.
About the World Alliance for Retail Excellence & Standards™
World Alliance for Retail Excellence & Standards unites Retail Services Providers, Manufacturers, Retailers and Support Service Members in a trusted global association marketplace exemplified by professionalism and high ethical standards. They provide a broad array of resources and innovative services as well as educational opportunities and a certification process that help its diverse membership become more effective and efficient in delivering exceptional sales, marketing and service support to B2C manufacturers, retailers and their customers, across all channels of retail. To learn more, visit http://www.worldalliance-retail.org/